Make your second home beautifully organised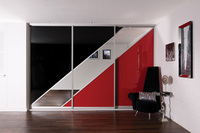 The trend for second homes in the UK is growing; according to data from PrimeLocation.com, there were 246,494 in 2011.
If you're one of the growing number of people enjoying second homes, you'll know how important it is to be organised and know what is where! And why not go for a completely different look to your "regular" abode?
Well planned storage is the key to a tranquil, beautiful home. Whether it is a trendy city apartment or an idyllic holiday cottage, look at Sliderobes for your bespoke answer.
Everything is designed around you and your new needs and the portfolio of finishes is virtually endless; mirrored glass, faux leather, wood effects, metallic, colour and monochrome are just some examples.
If you'd like hanging space for holiday clothes, shelves for books, displays for audio visual systems or simply general storage space for vacuum cleaners, sports equipment or whatever else your second home requires, the design will reflect your requirements.
The accessories available for the interiors are just as clever and beautiful as the sliding doors! The range includes shoe and trouser racks, soft-close doors, LED robe rails, a pull-out mirror and novel pull-out shirt rails. Each accessory is designed to suit you and your specific requirements.
For design inspiration, visit Sliderobes' website, sliderobes.com.