Debenhams launches language signs to compete for Olympic pound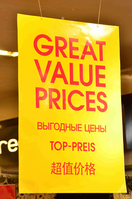 Chinese, German and Russian bargain hunters in London for the Olympics will be able to take advantage of a leading UK department stores' sales in their own language this summer.
Debenhams announced that it is trialling multi-lingual signage to help overseas visitors and competitors enjoy shopping as well as the Games during their stay in the capital.
The retailer, which currently has a Final Clearance sale with up to 70% off across its stores, chose the language translations, after it researched the number of overseas visitors due to flock into London during the next two months for the Olympics and Paralympics.
Travel industry experts have told the 200-year-old flagship department store to prepare for more German, Eastern European and Far East visitors as well as Americans.
Signs in the retailer's flagship store on London's Oxford Street will welcome, thank and communicate savings in English, German, Russian and Mandarin as tens of thousands of tourists hit the West End for the summer.
Says Mark Stevens, Head of Creative at Debenhams, "We will welcome all visitors from abroad who will be here celebrating the Olympics and enjoying all that London has to offer. We want to communicate the value they will find in our store to them as well as our British customers.
"We are used to making overseas visitors feel welcome and have previously helped the thousands of Middle Eastern tourists in their own language who were in London for their now traditional stay before Ramadan."
"We are considering making foreign language signs a more permanent feature in our stores."
According to travel companies, 31% more people will visit London during the Olympics than at this time last year.
The biggest contingent is expected to be Americans followed by Germans, Eastern Europeans and those from the Far East keen to see the sport and enjoy shopping and in events London.