Enjoy life on the sunny side of the street at Bellside Brae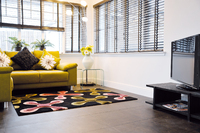 It doesn't matter what side of the street buyers take up residence on within Clydebrae Homes' beautifully presented Bellside Brae development in Cleland – as the option to have a sunroom as part of your brand new home means that you'll always enjoy life on the sunny side!
Located within the secluded and peaceful North Lanarkshire village of Bellside, near Cleland, this inspiring development offers an incomparable choice of 27, four and five bedroom detached homes.
The properties at Bellside Brae are unlike anything else currently available in the area, in terms of the generous square footage, highly competitive pricing structure and unparalleled standard specification, which is sure to leave prospective buyers having ticked everything on their 'wish list' for their new home.
In essence, Clydebrae Homes has left no stone unturned at Bellside Brae, with attention to detail that has left visitors to the development both awed and delighted in equal measure.
Further adding to the appeal, is the option to have a sunroom included as part of the build – an enviable option in spite of the lack of sunshine this year!
Robert Kirk, managing director at Clydebrae Homes, says: "A sunroom really does add value to a home in every sense. By including it as part of the build with our properties, it seamlessly flows with the rest of the house, rather than being a separate extension. As much of the room consists of glass, this allows for maximum solar gain and not just when the weather is good.
"Feedback from buyers who already have a sunroom within their new home at Bellside Brae is that the space can be enjoyed whatever the season. It also has the flexibility to adapt as an extension to the kitchen, ideal when residents are entertaining."
What is unique about Clydebrae Homes' offering is the sunroom is available with each of the three-different house types at the development, rather than reserved for only one style of property, as can often be the case at other developments. So whether buyers are tempted by the elegant Spey, thoughtfully crafted Tweed or majestic Tay, each carries the opportunity for a sunroom to be included within the build of the property.
Bellside Brae is a tranquil hamlet, surrounded by open fields that belie the location's close proximity to the A73 Carlisle Road and that it also provides ease of access to the M8 and M74 for travel to Glasgow, Edinburgh and much of the central belt.
Wishaw, Airdrie, Motherwell and Hamilton are all only a short drive from the development, offering a number of retail and leisure facilities - as too is Strathclyde Country Park and its innumerable all-year-round outdoor pursuits.
Neighbouring Cleland provides every day essentials, including a selection of local shops, bars, cafes and primary schooling; while secondary education is provided at schools in nearby Wishaw and New Stevenson.

If you want to enjoy life on the sunny side of the street, visit bellsidebrae.com.