Seasonal summer festivities in Val d'Isere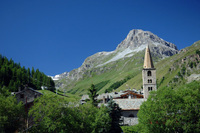 For those who only know Val d'Isere as a renowned skiing resort, think again! From sporting events to cultural festivals; Val d'Isere is host to a number of exciting activities and experiences this summer. Read on to discover the best festivities this summer...
Traditional Village Fête 'L'Avaline Savoyard Fair'- 4th & 5th August 2012
Enjoy this authentic fête now in its eighth year with over 80 stalls offering local produce, jewellery and sculptures from around the Savoie and Val d'Aoste region. Guests can enjoy the traditional marching bands and alpine musicians while free entertainment for children such as donkey rides, face painting and a farm animal petting area will make this two-day festival a memorable celebration.
The World Archery Championships - 14th-19th August 2012
Val d'Isere has teamed up with The World Archery Federation to host The World Archery Championships for the second year running. This niche professional sport requires the highest precision and strength. These championships allow competitors of all ages from around the world to visit Val d'Isere to showcase their skills and invite the public to watch this intriguing sport.
Val d'Isere Summer Ball - 14th August 2012
Dance and dine the night away as Val d'Isere hosts its annual soirée, the spectacular Val d'Isere Summer Ball. Enjoy the evening's entertainment before the night ends with a bang as the stunning firework display lights up the night sky.
Fishing Contest at Lake Ouillette - 15th August 2012
The Ouillette Lake offers breath-taking panoramic views of Alpine landscape and is the venue to this year's August fishing contest. Come down and spend the day with friends and family out on the river. Pack a delicious picnic and enjoy the views and local wildlife from the river bank and nearby restaurants.
Festive Thursdays in Val d'Isere - Every Thursday in August 2012
Don't forget, during the month of August, Thursdays in Val d'Isere will be known as Festive Thursdays where the town will come alive with live street performers and children can play with a wide selection of games made from local alpine wood.
For more information on what other events and activities are available, visit valdisere.com.