Elan offers a lending hand to first time buyers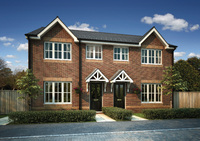 There's good news for first time buyers in Stoke who could find they're able to buy a new home even if they don't have substantial savings.
The developer is committed to helping first time buyers and has introduced its Elan Homebuy scheme, offering customers the chance to take out an interest-free 10 year loan for up to 15% of the price of selected properties
Available on three-bedroom homes at Hillside Park in the Norton area of Stoke, it's designed to make setting up home easier.
Marie Morris, sales director for Elan Homes in the north, says: "Elan Homebuy is a great deal and excellent value. It compares favourably against other schemes as the loan is interest free for up to 10 years, while those who buy with the Government-backed FirstBuy scheme will have to pay interest after only five years.

"And when it comes to repaying the loan you can rest assured that even if the value of the property increases, it won't affect how much you have to pay back, unlike other schemes."
With Elan Homebuy, a three-bedroom property can be purchased for an initial outlay of £112,999.
Those buying a home through the scheme should only need a small deposit of around 5% of the purchase price.
Marie adds: "Figures released by the Council of Mortgage Lenders suggest that the average first time buyer deposit is now around £25,000, but with our Elan Homebuy scheme you may only need a fifth of that to secure a brand new home at Hillside Park. We'll even let you reserve your new home now, bank what you've saved already and let you add to your deposit while we build the property."
Thanks to Elan Homebuy, a deposit of £5,650 could be enough to secure a mortgage on a three-bedroom home.
Despite the low deposit, buyers should still be able to access some of the better mortgage rates usually reserved for those with substantial savings or equity in an existing property.
The application process for the valuable help is quick and simple and once the mortgage application has been approved customers will be able to proceed with the purchase of their new home under the professional guidance of the experienced sales team.
Hillside Park is just a few minutes away from the Staffordshire and Peak District countryside. Easy access to the M6 means it's well placed for commuting. Residents can enjoy shopping and leisure facilities in nearby Stoke, Leek, Ashbourne or Uttoxeter.
For further information, visit elan-homes.co.uk.