New app marks a world first for a museum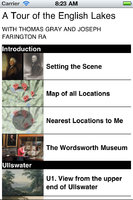 Dove Cottage and the Wordsworth Museum in Grasmere, the Lake District, has marked a world first for a museum, by creating and launching an app that takes an indoor exhibition outside for the first time.
The new app, already described as a breath of fresh air by one user, runs in conjunction with the current exhibition at the attraction – 'Pen, Paint and Pixels, Touring the English Lakes across 250 years' (running to January 6, 2013) and gives 18th century art a new 21st century relevance, through a unique means of interaction with the gallery goer.
The exhibition features descriptions taken from the 1769 'travel journal' of Thomas Gray, in which he eloquently detailed the beauty of various locations around the mountainous and stunning Lake District. His writing inspired artist Joseph Farington to visit the same places, to paint Gray's views a few years later and the exhibition features copies of Farington's paintings and the engravings based on them. Its third element is that of digital photography from publisher John Murray, who visited the same places again, more than two centuries later, attempting to capture versions of Farington's watercolours.
The app challenges you to do better than Murray. It features all 28 locations and the watercolours (and sometimes engravings) painted in those places. It uses GPS technology to guide you to these spots, via an interactive map. The truly well prepared will have already seen the paintings and photos side by side in the exhibition and bought Murray's book, 'A Tour of the English Lakes', which gives them tips on getting a good likeness of each painting.
Those who only have the app can line up two markers on the interactive map, when in location, and take a shot based on this. Either way, if not entirely convinced this is the best place from which to take the shot, you can explore the vicinity, using the hints provided, and select another spot from which to take it.
This outdoor activity, based around an indoor exhibition, is truly engaging and already thrilling children and adults of all ages, who are hooked on their quest to be a latter day Farington and outdo Murray. It is a mission that can be tackled in all weathers, as the treasure trail exploration soon makes raindrops seem insignificant. Life is literally imitating art.
Farington's locations are, in the main, helpfully clustered around locations such as Windermere, Rydal and Ambleside, Derwentwater and Ullswater, with some easier to access than others, so depending on where you are staying, and your sense of adventure, you might just tackle a nearby cluster. Others might wish to do all 28 and, if so, you've a few days of not just culture, but also map reading, fresh air, exercise, outdoor fun and creativity ahead of you during your Lakes stay. The truly artistic can, of course, choose to paint or sketch the view, rather than looking at it through a lens.
Those who do not have a smartphone, can visit the exhibition and request Ordnance Survey map co-ordinates for the locations and still have enormous fun in the style of Farington.
The free app – A Tour of the English Lakes - can be downloaded at the Apple App Store or from play.google.com for android phones. Check it out prior to a visit to the exhibition and it will be hard to resist seeing Farington's watercolours in the gallery, painted as they are in the style of the Picturesque era in art.
Entrance to the interactive exhibition can be bought as part of a Dove Cottage visit, which includes a tour of Wordsworth's first family home and a visit to the Wordsworth Museum. This costs £7.50 for an adult, £4.50 for a child (under 6s free) and £17.20 for a family. The price of John Murray's book is £25 for the hardback and £14.99 for the softback. The Ordnance Survey map co-ordinates can also be requested. Dove Cottage is open seven days a week, from 9.30am to 5.30pm (last admission 5pm). Visit wordsworth.org.uk for more information.