Classic cars gather for nostalgic Autumn Classic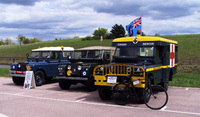 The Heritage Motor Centre will once again host the popular Autumn Classic, an annual gathering of vehicles over 20 years old. Hundreds of Vintage, Veteran and Classic cars will gather at this nostalgic event on Sunday 23 September. Entry into the grounds is free and those arriving in a qualifying vehicle can visit the Museum on the day for just £5 per person, the original entry price when the HMC opened in 1993! In addition there will also be a display of ex-RAF vehicles to celebrate the 70th anniversary of the opening of RAF Gaydon.
Drivers and passengers can also join in with the Autumn Cream Tea Run for a scenic drive, approximately 63 miles long through the southern-most part of Warwickshire and the edge of the Cotswolds and culminates in a delicious cream tea at the HMC 'Junction 12? Café. The cost is £20 per car (driver & passenger) which includes the Rally Plaque for the car, entry to the Museum and a cream tea for two people. Additional passengers cost £10 per person. The Run starts at 10:15am with the cream tea being served from 3pm - 4:30pm.
Visitors can also hope to find some bargains at the 'CarBoot 4 BEN' & Auto-jumble, a charity car boot sale with a difference which is held on the same day. BEN is the UK's only charity for those who work, or have worked, in the automotive and related industries, as well as their dependants. The boot sale is free of charge for visitors however car-booters' charges apply in advance or on the day. The HMC is an all-weather venue with plenty of tarmac parking. Please note that normal Museum entry fees apply to all visitors not arriving in a classic car.
For more information please contact John Bishop, Car Clubs & Groups Co-ordinator on 01926 645032 or groups[at]heritage-motor-centre.co.uk. If you own an ex-RAF vehicle or you are a Cockpiteer and would like to bring a cockpit to the event please contact John Bishop prior to the event.
For more information about the Heritage Motor Centre visit the website at heritage-motor-centre.co.uk.