The growing appeal of wooden homes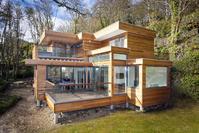 The UK is falling in love with wooden homes, with 75% of self build projects now constructed with a timber frame and 74% of architects and developers saying they would choose timber frame construction in the future, according to a survey commissioned by the UK Timber Frame Association. While timber has traditionally been used in construction for centuries in North America, Scandinavia and many other parts of the world, Britain has been more used to building in brick, but it seems that tide is turning. The houses at Rocky Lane in Cornwall, a collection of second homes constructed with a timber frame and clad in wood, show how wooden buildings can combine cutting edge design, the charm of natural materials and the highest eco standards.
The ten individually designed homes at Rocky Lane sit within 3.5 acres of private woodland, their exteriors clad in Western Red Cedar to harmonise with their surroundings and create a feeling of tranquility among the trees. The steep, rocky site is situated in a UNESCO World Heritage Site and an Area of Outstanding Natural Beauty, so the design had to minimise impact on the environment, work with the topography of the site and respect nature. The designs were created by internationally acclaimed architect Joel Turkel of Turkel Design, known for his ground-breaking homes made principally from wood.
Simon Blackburn, Managing Director of Living Structures, the developer behind Rocky Lane, explains his passion for wooden architecture: "We have a very special and beautiful site here at Rocky Lane, so we wanted architecture that would tread lightly on the land and create the feeling of a woodland hideaway, almost like living in a tree house. The homes are partly inspired by the wooden architecture of New England where my wife is from, as well as the woodland around them. The timber frame construction we have chosen has the lowest CO2 cost of any commercially available building material and a much lower environmental impact than using materials such as aluminium or steel."
The houses are constructed from frames of pre-engineered laminated timber members, which as well as being a green choice, are strong enough to support the large expanses of glazing, cantilevered floors and decked areas. The buildings appear to float above the ground, elevated on piles to reduce their impact on the root systems of surrounding trees and to allow water run off down the slope. Innovative design features such as the 'living platform' – a large cantilevered window seat - allow a reduction in the footprint of the house again reducing its impact on the terrain, as well as maximising interior space.
Designed with active family holidays in mind, each house has generous sheltered outdoor decks and/or terraces, as well as large open plan living and kitchen areas which connect with the outdoor areas through glass doors that slide back completely, creating a blurring between outdoors and in. The extensive glazing makes the most of views, natural light and heating via solar gain, while the choice of Rationel high performance double-glazed windows and doors ensures maximum insulation. The zoned underfloor heating is fed by an air source heat pump and the living room is complete with wood-burning stove. These energy saving features add up to make the homes extremely thermally efficient, surpassing current requirements by 44%, equivalent to a code 4 rating in the Code for Sustainable Homes.
Rocky Lane is located in the picturesque village of St Agnes, which has a selection of pubs, cafes, independent shops and galleries, as well as an active and welcoming community and a calendar of colourful festivals taking place through the year. Averaging more hours of sunshine than anywhere else in the UK, Cornwall's dramatic north coast is an enduringly popular holiday location, with a huge range of activities and some of the UK's best surfing spots. St Agnes lies 10 miles from Truro and 20 miles from Newquay International Airport, which offers frequent direct flights to Gatwick, Manchester and other UK destinations.
Current prices range from £499,995 to £650,000 and are exempt from stamp duty. For further sales information, visit rockylanecornwall.com.