Everyone's getting a Shoe Dazzle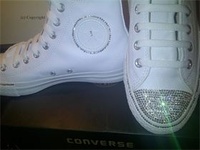 Model and body building champion Jodie Marsh and RHOC star Gretchen Rossi have both been 'Shoe Dazzled'. It is the latest style statement from Shoe Dazzled, specialists in sparkling up your shoes and accessories.
Shoe Dazzled are experts at selecting the finest Swarovski crystals and creating individual sparkling designs on shoes and accessories in all different shapes and sizes. Some of their recent creations include the six and a half inch heel crystal skyscrapers, originally made for RHOC star Gretchen Rossi.
Their best seller, the converse 'Full Dazzler' favoured by guys too and the 'Side Dazzler', loved and worn by Jodie Marsh!
Founder of Shoe Dazzled, 24 Year old Surrey-based Lauren Kupis is overwhelmed with the demand for her shoes, said: "I can't believe how quickly the business has taken off.
"We are creating shoes well into the night to fulfil all of our orders. As Marilyn Monroe said - give a girl the right pair of shoes and she can conquer the world! Wear a pair of our shoes and you can also dazzle the world"
The cutest range in Shoe Dazzled sparkling collection is the children's converse and non-walker shoes. These are a 'must-have' shoe for all tiny feet! Shoe Dazzled are also skilled in creating special occasion footwear including wedding shoes, wedding trainers, ball and prom shoes and baby christening pumps.
The shoes vary in price from £75 - £185 for adults heels and trainers and from £25 - £85 for children's converse and pumps. Shoe Dazzled are happy to customize the footwear you provide or can source and purchase the shoes you require for an added fee.
The Shoe Dazzled full range is available to view and purchase now on shoedazzled.co.uk.