JooMo 100% natural face wash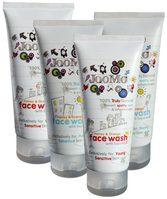 A revolutionary new skincare product for young people has launched, and the company is challenging the natural skin care industry to clean up its act on misleading packaging and use of the word 'natural'. JooMo Ltd., which has developed the first ever 100% truly natural face wash, has released industry research which shows most of the big name skin care brands that claim to be natural are in fact far from it, with many using ingredients found in drain cleaner and others that have been linked to breast cancer.
While industry experts are adamant that a 100% truly natural face wash is the Holy Grail in cosmetic formulation, it is an industry belief that it is in fact 'impossible' to achieve. This was until founders of JooMo, Nick Wallen and Linda Russell, embarked on an extensive research campaign to identify and address the problem areas, and a brilliant proprietary solution was proposed.
Nick Wallen, co-founder of JooMo, said: "What the industry experts had failed to do was look beyond the idea of individual ingredients serving one purpose only. The industry as a whole had got itself into a rut and could not look outside the way that it had always done things."
"As with all great discoveries, it needed an outsider to look at the problem in a different way and creatively resolve the issue through a logical thought process. Our development of SaponinJ is a defining moment in the natural skincare industry"
JooMo face wash, which uses 100% natural ingredients, includes the revolutionary skin care product SaponinJ, which is a proprietary skin repair system. SaponinJ deals with existing skin problems, repairs the damage caused by synthetic products and rebuilds the skin's natural defences to prevent future allergies, infection and inflammation. The product is specially designed for young skin, which is particularly sensitive and prone to acne and blackheads.
SaponinJ consists of a specially balanced formula of Saponins, Essential Oils, Sea Salt, Natural Sugars, Natural pH Modifiers, natural Antioxidants, Natural Softeners and Emollients.
Not so 'natural'
The research undertaken by Nick and the JooMo team found that the majority of leading skincare brands that use the word 'natural' in their branding and marketing messages, actually contain many unnatural ingredients.
Ingredients like Polyaminopropyl Biguanide, which is actually a disinfectant also used in cleaning solution for contact lenses, was found in a whole host of leading brands that carry the word 'natural' including one male grooming brand that carries the message 'Natural Skin Care' and 'Natural Grooming'.
One highstreet brand which claims to provide an 'Unbeatable product performance- naturally' and puts the success of the product down to 'The Power of Plants' fails to mention that its product actually contains 20 unnatural ingredients including Disodium Phosphate which is also used as a food additive to quicken cooking time.
Nick added: "We are not trying to say that the leading face wash products do not work, we simply feel that it is unfair to products like JooMo which are truly 100% natural, for brands to make completely false claims in their marketing and branding to mislead consumers."
More information on JooMo can be found at JooMo.coop.