Huangshan - China's mystical mountain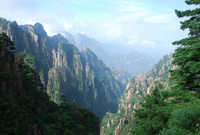 If you have ever seen a classical Chinese painting, it is likely that you have seen a depiction of Mount Huangshan. Made famous by the many poets and painters who favored it above all other mountains, Huangshan is a mystical experience even today.
Visitors to Huangshan can choose between a backbreaking climb up thousands of stairs or a quick cable car to the summit. In total, Huangshan has nearly 60,000 steps carved into the side of the mountain. Some of these steps are more than 1,500 years old.
An overnight on the mountain is a must if you are to enjoy the sunrise over the cloud shrouded peaks. Trails on the summit offer at least two days full of misty cliffs, deep canyons, picturesque rock formations, and gorgeous panoramic views. Most of the popular sights are scattered along the Western Steps up to the mountain. However, the less-visited West Sea Canyon trail (Xihai Daxiagu) is a better choice if you are looking to escape crowds of Chinese tourists and experience some jaw-dropping scenery.
Huangshan is a popular site combined with Shanghai, Hangzhou, or any of China's water towns. The China Guide staff are experts with Huangshan travel and hotel planning.
For more information, see thechinaguide.com.