LG TV gets even smarter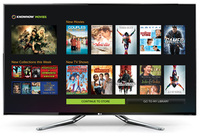 LG announces its 2012 Smart TVs are the first to launch Dixons Retail's Knowhow Movies service, bolstering its already strong on demand movie service.
Film fans will be able to enjoy the benefits of Knowhow Movies, a digital entertainment service from Dixons Retail (owner of UK retailers Currys and PC World) offering instant access to a wide-range of premium video content, available to rent or buy. With an extensive library including new and classic film releases (from major Hollywood studios such as Warner Bros and Disney – Sherlock Holmes: A Game Of Shadows, John Carter and The Woman In Black are among current titles) and cult TV shows, Knowhow Movies is the ideal way for consumers to enjoy their favourite content on-demand, subscription-free and at the touch of a button.
Knowhow Movies is now available across LG's 2012 Smart TV range. It will appear alongside LG's other leading film-on-demand services including LOVEFiLM, Netflix, Blinkbox and Acetrax, providing consumers with a wide choice of on-demand movies and TV shows.
Niall O'Keeffe, Business Development Director, Knowhow, says "LG's Smart TV platform is award-winning and was a natural partner for the evolution of our pay-per-view service. Already popular on PCs and tablets, we look forward to consumers enjoying the Knowhow Movies service on the big screen".
This follows LG's recent announcement of the arrival of the first ever 3D-enabled game apps for its CINEMA 3D Smart TVs – which were previously only available via smartphones and tablets. Handpicked specifically for the 3D compatibility, these fun, family-friendly games have been optimised for LG's CINEMA 3D Smart TV platform. Titles include Air Penguin, which was the top downloaded game app in the U.S. and 18 other countries last year, as well as Frisbee Forever, Burn The City, Downhill Bowling 2 and Diversion from Unity Technology.
Darren Petersen, LG Senior Contents and Services Manager comments "Our Smart TV platform represents the best in choice and variety for consumers and Knowhow Movies is the perfect example of how we continue to build our Smart TV platform to respond to consumers' needs. We are delighted to be partnering with one of Europe's leading electrical retailers from a content perspective and look forward to enhancing the unique benefits it can bring to the Smart TV experience in store and through the customer journey."
"We are also excited to be able to bring 3D gaming to Smart TVs for the first time so family members can enjoy the immersive fun together and realize the potential of Smart TV as a genuine 3D gaming platform."
Users can fully enjoy LG's growing collection of 3D games with LG's award-winning CINEMA 3D experience offering multiple pairs of comfortable, lightweight, battery-free 3D glasses. What's more LG's Flicker-Free technology means consumers can play for longer in even greater comfort.
For more information on LG's Smart TV platform, visit lg.com/uk/smartTV.
For more information on Knowhow Movies, visit knowhowmovies.com.