Pupa's new Ultra Elasticizing & Toning Oil with Active Oxygen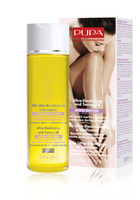 Pep-up lack lustre skin & diminish stretch marks with this re-energising treatment that'll have you reaching for your teeny weeny bikini in no time.
Pupa takes the fear out of 'the big reveal' this summer making a silky- smooth, glowing figure possible! Taking body oil to the next level, the experts at Italy's best selling Pupa Body Care brand have created the next new wonder product, Pupa Ultra Elasticizing & Toning Oil, adding to their arsenal of body-shaping and skin plumping treatments.
Bring the spa experience into your own home with the new Pupa Ultra Elasticizing & Toning Oil, £38, 200ml. Delivering extra nourishment and immediate rehydration to skin that's crying out for a moisture boost after those grey winter months of being hidden away, this skin tonic helps tone, firm and feed skin with skin quenching oils. It also helps reduce sagging and combat stretch marks. An ideal pregnancy skin saviour! Supplying the skin with Active Oxygenhelps restore energy to the tissues, aiding activation of the lipid metabolism and circulation which in turn boosts its detoxifying capabilities. Active Oxygen also results in healthier skin that works better and is better prepped to receive the active ingredients.
This skin nourisher is brimming with pure natural oils including Argan oil, Almond oil, Carrot oil and Omega 3 & 6 oils, recreating the skin's natural lipid barrier helping retain water and prevent natural evaporation. Skin is instantly quenched and left with a fresh dewy look without the greasy residue. Used on wet or dry skin, it is fast absorbing enabling you to dress soon after application.
From the very first application, the skin appears improved in texture and tone. Continued use helps reduce and prevent stretch marks and firm the skin.
With the inclusion of Active Oxygen and essential ingredients your mind and body is soon enveloped in a "spa-effect", Pupa Ultra Elasticizing & Toning Oil is sure to rank high on your 'pre- holiday must-haves' list!
Formula
1. Stimulates, Nourishes and Elasticises:
A formula with a very high content of Active Oils:
Almond Oil elasticses tissues and prevents the risk of stretch-marks
Argan Oil with its softening properties stimulates celluar renewal and awakens tissues
Carrot Oil nourishes and protects the skin
2. Toned and Compact Skin:
The combination of precious Omega 3 and Omega 6 oils nourishes untoned skin, helping it to regain firmness and radiance. The surface of the skin will appear reinforced, nourished and surged with moisture.
3. Firm Up for a Slimmer Silhouette:
The Active Oxygen ingredient (Ozonized Sunflower Seed Oil) activates the metabolism of skin tissues and makes skin more receptive to the other key ingredients. It also promotes drainage and removal of liquids for more compact and firmer skin.
How Does Active Oxygen Work?
Some vegetable oils such as the Sunflower Seed Oil contained in this product, can be 'ozonized', meaning that certain parts of their molecule can turn into Ozonides which are able to supply oxygen to the skin. When oxygen gets released it can easily reach the cellular membranes, going to work to boost skin defenses, increase cellular energy, improve detox abilities and better prepare skin for the active ingredients.
Application: Apply daily in small amounts all over the body with a light massage until completely absorbed. Pay special attention to areas where skin is prone to losing suppleness and tone. For an intensive treatment, we recommend applying daily, morning and evening, for at least 8 weeks, and daily afterwards to maintain the obtained results. It can be used on dry skin or massaged with damp hands for greater radiance. This silky, extraordinarily rich oil melts onto the skin leaving it smooth and silky without greasiness.
For more information, visit urbanretreat.co.uk.