Fashionable, flattering and comfortable: Modern wirefree bras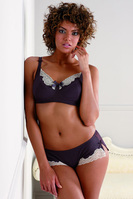 At first glance, Royce Lingerie's beautiful bras could be those which grace the pages of glossy fashion magazines. However, take a closer look and you might just realise that they are, in fact, totally wirefree.
Non-wired bras have, for many years, been seen as the poor relation to their underwired counterparts, but Royce Lingerie has come a long way to change that perception.
With the introduction of a special edition 20th Anniversary brochure back in 2011 and the launch of several sumptuous, sexy new styles, Royce has proved that wearing wirefree doesn't necessarily have to mean sacrificing style, colour or fashion. And with a collection which includes bras in sizes ranging from 28 to 44 and AAA to K, there is a Royce design to suit everybody.
Royce Lingerie's collection includes bras for everyday comfort; for during pregnancy and breastfeeding; for after breast surgery; sports bras and the Missy range for young girls.
With gorgeous lace, pretty embroidery and fashionable prints, many styles also have matching briefs or shorts available: making women feel even more fabulous.
For more information on the Royce Lingerie range of beautiful wirefree bras, visit royce-lingerie.co.uk.