Diverse selection captures international bidders' imagination at Barons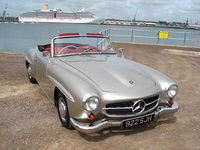 The diverse selection of classic cars and motorcycles at Barons' sale at Sandown Park on September 18th attracted buyers and bids from around the world. Bidders travelled from as far away as Australia, and the sale was followed online from bidders in many countries in Europe as well as the USA, Canada, Australia, Singapore and China – all through Barons' live video link.

The result of all this interest was that some excellent prices were achieved. The highest price on the day was for the beautiful 1958 Mercedes 190SL. This generated lively bidding online, on the telephone and in the saleroom, and sold for £47,000 – which is more than twice the price achieved for the same car when Barons sold it back in 2002.

The second highest seller was another of the headline cars - the rare and very elegant Hotchkiss. This is going back to its native France after some spirited bidding between three telephone bidders and bidders in the hall took it to £42,500.

Although to two top-sellers were made overseas, the lots predominately followed the British Heritage theme, and the third highest price achieved was for the lovely primrose yellow Jaguar E-type S2 Roadster, which made a very healthy £36,500.

The bright yellow, rally-spec 1969 Twin Cam Ford Escort romped up to £29,000, somewhat overshadowing the two other MkI Escorts, which made £9,200 and £5,500 for the 11,000 mile, 1974 1300 and the 1971 LHD 1300L examples respectively. Another high-flyer from the British Heritage selection was the white Daimler 250V8, which soared past its reserve to achieve a very respectable £15,961.

The splendid Bentley MKVI found a new and appreciative owner at £19,600 while the Morris Cowley 'Bullnose' Tourer, which had been rescued from a breaker's yard, looked like an excellent buy at £11,492.

The 'barn find' Oselli Mini was bought by an internet bidder for £5,600 and the little Rover 114 Cabriolet, which had covered just 4,000 miles since 1997 looked amazing value at just £2,812. And every one of the three British motorcycles sold, with the 1961 Norton Dominator fetching £4,500, the 1961 BSA A7 £3,372 and the 1971 BSA A65 £2,300.

Barons' next sale at Sandown Park is its Classic, Collectors, Sports & Prestige Cars auction on October 30th. For further information or to consign a car to the sale, visit barons-auctions.com.