BBC Local Radio reveals the UK's favourite Beatles song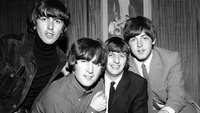 A survey carried out for BBC Local Radio has found that Hey Jude is UK music fans' favourite Beatles track - beating other singles from the Fab Four to the top of the chart when it comes to best-loved Beatles tunes of all time.
12,000 music lovers from across the UK were interviewed for the survey and asked to choose their favourite song, with Hey Jude hitting the number one spot with 11% of the votes, Yesterday coming in a close second with 10% and Let It Be in third place with 7% of people choosing it as their most-loved track.
There was some difference in song preference in different parts of the UK, with East Midlanders and people in the West and South West citing Yesterday as their favourite single, people from Cornwall preferring Eleanor Rigby and Essex music fans favouring the more up tempo She Loves You.
The full survey results will be revealed on BBC Local Radio stations today, as part of My Beatles Story Day, (#mybeatlesstory) when every station will also be broadcasting listeners' memories of the Fab Four.
In their early days The Beatles toured extensively, visiting towns as far apart as Morecambe and Southend, and Croydon and Whitchurch, in addition to the major cities. They were seen by vast crowds as their popularity rocketed, and it is hoped that people's memories will come flooding back for a golden day of Beatles nostalgia right across the BBC's Local Radio network. The survey will also get people debating which Beatles song is best and why.
The stations are asking audiences not only if they attended any of the early gigs, but also whether they ever saw a fresh faced young Paul McCartney out and about, or if they might have served John, George or Ringo in a pub or shop, or given them a lift in a taxi.
Stuart Maconie is also presenting an hour long documentary Love Me Do: The Beatles '62 on BBC Four on 7 October at 10pm. The programme asks why Liverpool was the birthplace of a musical phenomenon. The city was suffering from severe unemployment, yet it was also the world's biggest port. Maconie explores how its vibrant pop culture was influenced by the records which arrived from the United States, and chronicles the social history of a proud seaport which helped change pop culture forever.