MotoGP inspiration for the street and FREE insurance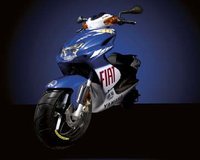 Team Yamaha rider Valentino Rossi is one of MotoGP's most successful competitors; his enthusiasm and spirit is an inspiration to motorcyclists all over the world. Now, Yamaha's Aerox 50 scooter comes in the distinctive livery of Team Yamaha, enabling riders to experience that spirit for themselves.
From scalloped air scoops to cool the nose-mounted radiator to the race-style analogue speedo and fuel gauge, the detail provides a clear view of the bike's performance. Its high-output 50cc two-stroke engine ensures sporty acceleration whilst its powerful 190mm front and rear disc brakes combine with grippy 13inch tyres to bring the bike to a rapid, assured stop every time.
Great performance doesn't come at the cost of ease-of-use, though. The Aerox is an ideal scooter for riders of all levels of experience. Reliable automatic transmission means crisp acceleration because the engine is always pulling in the rpm range where it is strongest and the light chassis and direct handling make it easy to manoeuvre in traffic.
The sports-tuned suspension and adjustable rear shock with piggy-back reservoir provide a smoother ride over uneven surfaces.
It's practical too, a roomy dual seat provides space for a pillion passenger and there's enough storage space in a lockable bay beneath.
Inspired by a winning team, the Aerox Team Yamaha Race Replica combines sports styling and exciting performance in a reliable, practical scooter that can be ridden everyday.
In addition, Yamaha are offering FREE and subsidised insurance for owners of this and other Yamaha scooters until June 30 (see Yamaha-motor.co.uk for terms).
The 2009 Aerox Team Yamaha Race Replica is available now at authorised Yamaha road dealers, priced at £2299.00 (not including road fund and first registration fee).
And don't forget, there is a fantastic range of Official Valentino Rossi clothing available from Yamaha to compliment the Race Replica, so check out yamaha-motor.co.uk/accessories or get down to your nearest Authorised Yamaha Dealer for more details.