Yamaha's XJ6 and XJ6 Diversions get hot wheels treatment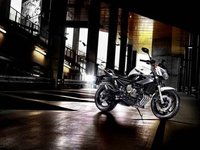 Riders looking for something that has style, a good temperament and one that has a multi-talented character capable of taking its rider wherever they want to go need look no further – Yamaha's XJ6/Diversion will fit the bill. Even better is that Yamaha have included the XJ6 and XJ6 Diversion models, including the ABS variants, in their HOT WHEELS, HOT DEALS initiative where customers can take advantage of some really hot finance deals. To keep the good news flowing, the 0% finance window will say open until Monday 14th September 2009.
Hard to resist? Definitely.
Along with the TT winning YZF-R6 and many other Yamaha motorcycles, the XJ-Series models come with a minimum of £99 down with 3 years to pay, attracting no interest payments at all.
For full terms and conditions and more details, visit an authorised Yamaha dealer or visit yamaha-motor.co.uk
Models included in the promotion are: YZF-R6- FZ6 S2- FZ6 S2 Fazer- FZ6 S2 Fazer ABS- FZ1-FZ1 ABS - FZ1 Fazer - FZ1 Fazer ABS- XT660Z Tenere - XT660X- XT660R- FJR1300A- XJR1300- XVS950- XVS1300A- XV1900- XJ6– XJ6 ABS – XJ6 DIVERSION – XJ6 DIVERSION ABS