Give your middle-weight a belly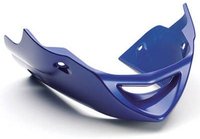 Yamaha is pleased to announce that it has now added a new sub-cowling to the fantastic collection of accessories already available for its popular new all-rounders, XJ6 and XJ6 Diversion.
These models can now benefit from a new belly pan specifically designed to upgrade the standard factory fitted part for an even sportier look.
With a retail price of £184.99 inc. VAT, the new sub-cowling is manufactured from sturdy ABS and is available colour-matched for all variations of the both the XJ6 and XJ6 Diversion models, enhancing the already clean and contemporary lines.
As with all Genuine Yamaha Accessories, the new XJ6 sub-cowling has been designed and tested specifically for the models for which it is intended. This ensures that not only is the fit perfect but the quality is also second to none. In addition, fitting a Genuine Yamaha Accessory will not affect your product warranty.
For more information on Genuine Accessories available for the XJ6 and all models in the Yamaha line-up, visit yamaha-motor.co.uk or get down to your nearest dealer.