Yamaha staff get more out of life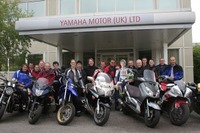 It's National Motorcycle Week (12th to 18th July) and an important part of that event is Ride to Work day (Wednesday 15th July) where many motorcycle and scooter riders around the UK will be highlighting the positive aspects of motorcycling including environmental and social benefits by using their bikes.
Staff at Yamaha Motor UK Ltd based in Weybridge, Surrey, supported the event by joining the ever growing throng of Yamaha customers (the brand is now market leader in the motorcycle market) in riding to the office, making sure that the commuting traffic does not hinder their regular journey to work.
This year, the slogan for the week is 'Get More Out of Life' to highlight there is so much more to do on two wheels. Whether it's just the ease of getting about (near and far) that you are after or developing new skills or socialising, motorcycles create opportunities to enjoy life more.
Aspiring motorcyclists are more likely to be interested in getting to work easily than 'getting their knee down', according to a You Gov survey* carried out for National Motorcycle Week.
In two years the number of commuters who said they would like to ride to work on a motorcycle or scooter has doubled. The survey revealed that 16 per cent of the public said they would like to be a 'commuter biker' when asked what sort of motorcyclist they would like to be, compared to 8 per cent who chose this option in 2007.
One in eight commuters in Great Britain would consider switching to a powered two wheeler in order to avoid traffic. Bicycle commuters and tube travellers were the most willing to switch. Eighteen per cent of pedal cyclists and 20 per cent of underground users said that they would consider commuting by motorcycle or scooter to cut journey times and to avoid traffic and delays.
There is no doubt that motorcycles are a viable alternative form of transportation and whilst riding will save time and money, it's also a hobby that can be enjoyed at the weekend as well.