Dita Von Teese Named Ultra Vixen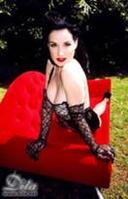 Bizarre Magazine has announced the winners of the inaugural Ultra Vixen Hall of Fame list, to be published in February's issue. What makes a Bizarre Ultra Vixen? It's all about balance, a lethal combination of sass, confidence, sexiness, danger, and fun.
A mile away from the dead-behind-the-eyes dullard models slumped on the front of most men's magazines, Bizarre prefers women with attitude and talent, as well as bombshell looks.
Featuring exclusive contributions from Dita Von Teese, Tura Satana, Courtney Love, Belladonna, and many more, the Hall Of Fame is an inspiration for girl readers, and a turn-on for men who demand more than a pair of fake tits and a dumb grin.
The Ultra Vixen Hall of Fame is part of the relaunch and redesign of the UK's biggest-selling alternative culture magazine. The relaunch issue hits the newsstands on Feb 13th. Also in this issue is the relaunch of the regular Bizarre Ultra Vixens feature, starring the sexiest, most full-on and far out real-life readers of any magazine. And this month's issue comes with a free A5 supplement featuring the most stunning and outrageous pictures of the 2007 Ultra Vixens.
The list in full:
1 Dita Von Teese
2 Bettie Page
3 Angelina Jolie
4 Bianca Beauchamp
5 Asia Argento
6 Catwoman
7 Debbie Harry
8 Christina Ricci
9 Tank Girl
10 Tura Satana
11 Gail from Sin City
12 Courtney Love
13 Marlene Dietrich
14 Cleopatra
15 Jane Goldman
16 Rose McGowan
17 Amanda Lapore
18 Willow from Buffy
19 Wonder Woman
20 Juliette Lewis
21 Sally from The Nightmare Before Christmas
22 Belladonna
23 Poison Ivy from The Cramps
24 Grace Jones
25 Bridget the Midget
26 Vampira
27 Louise Brooks
28 Betty Curse
29 Chiaki Kuriyama
30 Alison Goldfrapp