Errol Douglas launches Red Carpet Ready service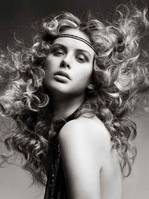 Who doesn't want to be spoiled, pampered and styled like a celebrity? That's the idea behind the Errol Douglas Salon's new Red Carpet Ready services, a complete, bespoke menu for hair, make-up and nails, for winter.
The first thing any woman needs for her moment in the spotlight is a relaxing hair and scalp treatment (from £60 for 60 minutes) that strengthens hair and adds shine, softness and body. The Errol Douglas Hair Botanicals Lounge has something for everyone, with services specifically targeting hair in need of a detox session or seasonally stressed hair, as well as treatments tailored to brides, men, and busy mums and mums-to-be. Treatments, which utilise Matrix Biolage products, also include head massage and blow-dry, as well as a choice of Booster drinks – specially mixed drinks from our in-house nutrition specialist to nourish you from the inside while we pamper you on the outside.
Eyelash extensions will have budding starlets ready for their close-up in no time! A full upper lash set (£150) takes around 1hr 30 minutes to apply and will last up to 3 weeks. A 'top up' (from £50) is recommended every 2-3 weeks to maintain the look and takes just 30 minutes. The procedure involves individual false lashes being attached to your own natural lashes to create a fuller and longer lash effect. The results are very natural, and different lengths are available to achieve whatever look you desire, from shorter lashes for a very natural look to full-on long, glamorous ones! There's also the option of 'wings' (from £50) — a technique where false lashes are attached just to the outer section on the eyelashes for a very subtle effect that will enhance the eyes. And they're actually brilliant for low-maintenance girls, no more mascara application needed…
And for ultimate Hollywood glamour, the salon is also the exclusive London stockist of the Ariane Poole make-up range. As well as retailing the range, Errol's in-house make-up artists, trained by Ariane herself, are on hand to apply make-up (from £60) or give lessons (£60, or £300 for a one-to-one lesson with Ariane) — perfect if you're dashing to an event or night out and need a make-up refresh, or a trend update for the new season. Clients who've just had a hair service can also help themselves to the bar to refresh their make-up before leaving the salon. International make-up artist Ariane is hugely respected and has appeared everywhere from GMTV to This Morning, as well as working on a plethora of top fashion and beauty shoots, celebrities, models and even royalty.
Errol Douglas is at 18 Motcomb Street, Knightsbridge, London SW1X 8LB.
For more information and appointments, visit erroldouglas.com.