Subtropical regatta brings race action to Florida Keys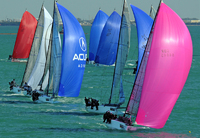 Sailors from around the world are to ply the Florida Keys waters in January, harnessing the region's warm wind and waves during an exhilarating regatta challenge.

Key West 2010, one of the most prestigious sailing regattas on the international calendar, is scheduled 18 – 22 January.

Presented by Nautica, Key West 2010 is to feature national and international sailing teams with contenders from the Hamble, Torbay and Torquay representing the UK, in multiple classes.

Racing teams including that of repeat competitor Crown Prince Frederik of Denmark are to test their mettle during five days of competition. One-design entries are strongly featured in classes such as the Farr 40, Melges 32, J/105, J/80 and talent-laden Melges 24 that typically draws the largest field.

IRC classes are to feature the debut of famed sailor Sir Irvine Laidlaw's 82-foot Highland Fling XI, and several current and previous world champion title-holders are planning to race in Key West.

The action is slated to begin at 10:30 a.m. daily, with as many as 10 races scheduled during the challenge. Competitors are to race on courses set over an 8-mile stretch of the Atlantic Ocean just off Key West's shore and inside the continental United States' only living coral barrier reef, which parallels the Florida Keys.

Key West's Historic Seaport, stretching along the island's Gulf of Mexico shoreline, is to serve as headquarters for the racing boats and their crews. Sailing aficionados can mingle with crews at the docks before and after races, and book seats on spectator boats at the pier.

Spectators who prefer to watch the races from land can choose from a variety of prime viewing spots including the island's Atlantic-front restaurants, resorts and beaches.

For more information and a race schedule for Key West 2010, visit premiere-racing.com.