DVLA celebrate 10-series success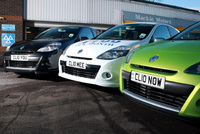 The first day of March will be a date motorists will instantly be aware of… thanks to the 10 indicator encased in new style registrations.
And with DVLA Personalised Registrations selling more than 9,000 since the 10-series were available to buy on December 1, 10's should be seen on virtually every street corner!
Those sold by the DVLA will, of course, be further boosted by those registrations automatically assigned to new cars and not purchased as private number plates.
Damian Lawson, DVLA Personalised Registrations' Marketing Manager, said: "The simplicity of adapting 10 into the new style registrations in order to make up a personalised registration like a family or company name has clearly proved to be successful."
Introduced in September 2001, the current style of registrations comprises two letters, a two figure age identifier, a space and three letters – 10 simply identifies new cars registered and released in 2010. The second releases of the year, on the road from September 1, will be identified by 60.
Indeed, the 10-series has proved extremely fruitful to owners of Renault Clio cars, combining CL with 10 develops in personalised registration "language" CL10 – the closest combination to the actual spelling of the popular small family car.
One dealership in particular, Mackie Motors Renault of Brechin, north east Scotland, seized the moment and bought three CL10 plates – CL10 YOU, CL10 MEE, CL10 NOW - for its fleet of courtesy cars.
Ryan Urquhart, Mackie Motors' sales manager, said: "Private plates are a great way of personalising a car and thanks to the 10 series, for us spelling out Clio is easy."