Breakdown assistance in 15 seconds with iPhone app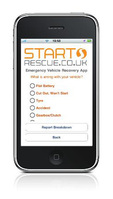 Startrescue.co.uk has launched a great new iPhone app for stranded motorists, which is the first of its kind, as a call for assistance is not necessary. Saving valuable battery life can be critical in these circumstances and though one member reports being nervous about not making a call, he was then pleased at how quickly and well it worked.

Members of Startrescue.co.uk are spared the tedium of providing endless details over the phone and as the service links in with iPhone's GPS technology they won't even have to describe where they are. Once all details are verified, the motorist gets a call confirming details of the rescue time.Within days of being launched the app has been downloaded thousands of times and used in anger frequently with those members reporting a breakdown in a few seconds.

"This means our call centre can respond fast and accurately when our members need them most" says Richard Lamberth from Startrescue.co.uk "We are committed to finding new technology that can deliver additional benefit to our members – and the huge popularity of iPhones was a big driver for us here" he adds. Available free of charge to Startrescue.co.uk members from the iPhone app store, the app can also be freely downloaded by non members who want to find out more about one of the UK's fastest growing roadside rescue services.