Autumn gold for DVLA auction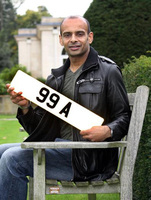 DVLA Personalised Registrations' autumn auction got off to a dream start with the first plate of the opening day proving to be the event's big hitter – so far!
Birmingham pharmacist Harbhajan Bains was true to his word by buying 99 A for his 11-year-old daughter, Amun, for £26,480.
With a portfolio of 25 historic plates to his name, the 41-year-old self confessed personalised registration aficionado declared "the sky was the limit" moments after the auctioneers' gavel came down on his prize here at Rudding Park, near Harrogate, Yorkshire.
He said: "I promised my daughter 99 A and there was no way I was going to leave without it. While I was prepared to spend at least £15,000, the truth was I would have bought it no matter the cost. It is perfect for her, the 99 A combination representing her birth year and initial."
He added: "While some people may think £26,000 for a numberplate for an 11-year-old is extravagant, I see it as a superb investment. By the time she's old enough to place it on a car, I'm confident it'll double in value, that is, of course, if she wants to sell it!"
The first day of the three-day event has again proved extremely fruitful for DVLA Personalised Registrations. Impressively, 95 per cent of those registrations being auctioned were successfully sold.
While 99 A set the standard, high hopes rest on 10 O, with a £10,000 reserve, the most valuable plate of all the 1,500 being auctioned. DVLA organisers have, as ever, dug deep into the Agency's vaults and conjured up a wide variety of registrations to suit all tastes and budgets, with reserve prices starting from as little as £250.
Damian Lawson, DVLA Personalised Registrations' Marketing Manager, said: "Our first day here at Rudding Park has again been a triumph. While we were left a little stunned when the first registration of the day sold for £26,500, the entire day has been tremendous. The day has also been successful with bargain hunters as numerous plates have sold for reserves as little as £300."
In total, DVLA's forthcoming auction will comprise 1500 registrations chosen to offer an eclectic mix to suit all tastes, styles and pockets, including GEN 151S (reserve £350), H15 DOG (£900), LFC 80Y (£400), LAM 80S (£400), MAX 104D (£400), 10 O (£10,000), 3 OOO (£4,000), ONE 805S (£400), ORE 60N (£400), RA55 STA (£900).