Cycling & walking adventures in South Australia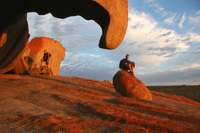 Travellers looking for action and adventure in South Australia (southaustralia.com) with the option of incorporating world class food and wine experiences should check out the tour options of Adelaide-based Adventure Collective (adventurecollective.com.au).

Tour highlights for next year include an epic 30-day cycling tour from the southern to northern gulf departing April 2011. Further 2011 highlights include:

- Cycle from Gulf to Gulf departing from Port Augusta in South Australia and finishing in Karumba in Queensland. This epic 30-day journey, designed for cyclists of all levels and ages, includes the Mawson Trail taking in the Flinders Ranges, the legendary Birdsville Track including Outback towns and remote stations. Tour departs 10th April 2011 and costs AUD$4,715 per person.

- Cycle Tour Down Under Spectator Packages - Adventure Collective is the official tour operator for Santos Tour Down Under to be held in Adelaide and regional South Australia between 16th - 23rd January 2011. Five package options are available ranging from a one day lead-out package from AUD$135 per day to the 8-day 'Go Pro' package from AUD$3,495 per person.

- Kangaroo Island Walking Tour is a four-day walking tour of Kangaroo Island, perfect for nature lovers with its dramatic coastlines, sheltered beaches, pristine bush land, dense forests and sweeping sand dunes. Wildlife that can be seen in its natural habitat includes wallabies, koalas, goannas, kangaroos, sea lions, sea lions, fur seals and abundant birdlife. This tour has departure dates every month and costs AUD$1,675 per person.

- Active Kangaroo Island Cycling Tour is a three-day cycling tour of Kangaroo Island designed for cyclists to enjoy the quiet roads and sleepy villages, as well as getting up close to the fabulous wildlife. One of the highlights is exploring Flinders Chase National Park. This tour has departures every month and costs AUD$895 per person.

- Active Barossa Cycling Tour is perfect for wine lovers as this two-day cycling tour travels through one of Australia's most famous wine regions visiting wineries, learning about local winemaking techniques, enjoying wine tastings and gourmet picnic-style lunches whilst cycling through some of the most stunning countryside in Australia. This tour has departures every month and costs AUD$670 per person.

- Pure Barossa Cycling Tour is a sumptuous three-day gourmet cycling tour of the wine capital of Australia, with highlights including visiting boutique wineries, wine tastings, fine dining at top restaurants and sightseeing at historic attractions. This is a private tour on demand for two or more people and costs from AUD$1,610 per person.

All tours include transport as required by the specific itinerary, tour guide, accommodation and some meals.