Revisit your favourite Top Gear moments with Suzuki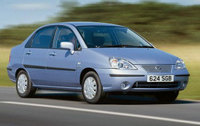 Ever wanted to get up close to the Suzuki cars that featured on BBC's Top Gear? Well now you can at the World of Top Gear Exhibition at the National Motor Museum in Beaulieu in the heart of the New Forest. Visitors to the museum are able to look around the cars, get a behind the scene view into the show's production office and revisit some of their favourite moments from the very popular TV show.
The display of cars includes the famous Suzuki Liana "Star in a Reasonably Priced Car" that was driven by 65 celebrities and numerous Formula One drivers over a five-year period on the programme. Top of the leader board was Ellen McArthur who flew round the track, tackling corners such as Gambon and Hammerhead, with a lap time of 1 min 46.7 seconds. The Liana was used for seven series of the show and it lapped the circuit 1,600 times, the equivalent of over 7,000 track miles, a distance that Suzuki calculates could be equivalent to up to 140,000 normal road miles. What's more, the Liana achieved this feat without any major faults, simply requiring – as one would expect – replacement clutches, wheels, tyres and regular services.
Also on display is a Suzuki Swift that the Top Gear team used for a game of Ice Hockey in the Series 7 Winter Olympics. Richard Hammond and James May took to the cars for a life-size game of Ice Hockey while Jeremy Clarkson took on the role of referee.
The long-term exhibition was opened on 18 June 2009 by the Stig which coincides with the return of the BBC show on Sunday 21 June at 8pm where the Suzuki Liana Reasonably Priced Car makes a return guest appearance.
To find out more about the Suzuki automobiles range, visit suzuki4.co.uk