Part exchange to a New Heritage Collection home in Caldicot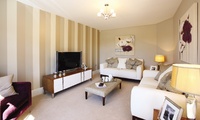 For those with a property to sell, there's an easy way to upgrade to an exclusive New Heritage Collection home from Redrow in Caldicot.
These instantly recognisable traditional homes are available to buy through Redrow's part-exchange scheme. Effectively this means the award-winning housebuilder will act as cash buyer for your existing property and pave the way for you to own a brand new home at Nedern Rise.
The New Heritage Collection is a premium housing product with more than a hint of nostalgia, influenced by the 'Arts and Crafts' era, but boasting a specification to meet the needs of modern lifestyles. Redrow has deliberately set out to reintroduce a high degree of individuality to the way its homes look and feel.
Redrow has two beautifully decorated show homes open at Nedern Rise, which have been styled by a team of top interior designers. The four-bedroom 'Stratford' and 'Lincoln' properties showcase the fabulous potential of these spacious family homes.
Debby Pavitt, sales director for Redrow Homes (South Wales), said: "For many people, the potential hassle that comes with selling their existing property could be all that stands in the way of them buying a brand new home.
"But with our part exchange scheme they don't need to worry as we'll effectively act as their cash buyer, in many cases making an offer on their house within seven days. They won't have to worry about estate agent's fees or getting stuck in a complicated housing chain that could delay their move."
Some of the traditional external features, which will be seen in varying degrees on the Caldicot homes, include dropped eaves, bays windows, timber or tiled canopies over doors and windows and larch lap boarding.
These traditional exteriors hide a contemporary interior specification, featuring convivial open plan living spaces, fashionable kitchen designs with floor to ceiling units, central islands and top brand name appliances, plus bathrooms that are modern and pleasing to the eye.
"Many of the sought-after features that come as standard in a new Redrow home would be classed as upgrades or optional extras in a competitor's property," said Debby.
Located off Church Road East, Nedern Rise will eventually comprise 109 properties. The first phase features three to six bedroom homes, with current prices ranging from £224,995 to £339,995.
Surrounded by stunning countryside, the development is close to the M4 motorway and benefits from excellent amenities in Caldicot itself, including shops, schools, leisure facilities and a weekly market.
To find out more, log on to: redrow.co.uk