Poole Quarter purchaser steps onto the ladder with an EasyBuy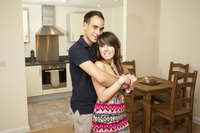 First-time buyers have come face-to-face with a tough housing market recently, yet despite the difficulties in reaching that all important first rung on the ladder, a local couple have found themselves an 'EasyBuy'* and are now the proud owners of a brand new home in Poole.
Keeley Fraser, 21, and James Etherton, 25, have flown the nest and set up a home of their own at Poole Quarter, a popular housing development just 300 metres from the sea. With a little helping hand from award-winning housebuilder, Crest Nicholson, the young couple have bought a two bedroom apartment – with balcony and parking space – through its EasyBuy incentive.
"We'd had our eyes on Poole Quarter whilst we were saving for a deposit so when we spotted the first-time buyer scheme was available, it was an opportunity we just couldn't miss," said Keeley.
The EasyBuy scheme allows first-time buyers to own 100% of their home but only pay 80% of the price upfront. Unlike other incentives, there is absolutely no rent to pay or interest accrued on the outstanding 20% of the property's equity for the first five years. The outstanding loan amount is paid back as a percentage of the property's open market value at any time up to resale or after 10 years, whichever is sooner.
As a credit controller in nearby Holten Heath and marine electrician at local employer Sunseeker, Keeley and James chose the Poole development for its close proximity to their work and the added bonus of the coastal lifestyle that came with their purchase.
"We feel really lucky with our apartment; thanks to the incentive we've managed to buy a place with two bedrooms in a great location," Keeley added. "We have a small dog so we're always walking down the beach, and with our work in such easy reach by car and public transport, it suits us down to a tea."
Poole Quarter's EasyBuy apartments combine contemporary living with all the essential home comforts and an interior design that offers a high level of specification. Keeley commented: "Our apartment was still being built when we purchased it so we were given the chance to sit down with the sales team and choose our own kitchen design, allowing us to put our stamp on it right from the start. Being a new build it's really modern and has a nice clean finish, which means we were able to move in without having to worry about doing any decorating ourselves."
Chris Warner, Sales & Marketing Director for Crest Nicholson South, said: "EasyBuy at Poole Quarter is a fantastic scheme for first-time buyers, offering a taste of luxury at an affordable price. The low deposit is extremely attractive to new purchasers at the moment so the initiative is proving to be a popular option for getting onto the property ladder. The one and two bedroom apartments at Poole Quarter are being snapped up quickly though, so anyone interested should visit our sales team before they miss out!"
Poole Quarter is close to shopping facilities, restaurants, a leisure complex and is a short distance to the town centre and local train station. Furthermore, the development is in a perfect location for water sports enthusiasts, with sailing, jet-skiing and windsurfing hotspots on its doorstep.
First-time buyers can purchase a one bedroom apartment at Poole Quarter from £158,000, which equates to £126,400 when bought through EasyBuy. A two bedroom apartment can be purchased from £197,000, equating to £157,600. Crest Nicholson is also offering additional incentives such as carpets, blinds, a designer furniture package and paid stamp duty within the cost of selected EasyBuy apartments.
For more information, please visit the Sales and Marketing Suite at Poole Quarter which is open daily (10am – 5pm).
*EasyBuy is only available on selected properties and is not available in conjunction with any other offer. The remaining 20% is left outstanding as a loan for up to 10 years secured by a second mortgage. The customer pays 0% interest fixed on the outstanding 20% for the first 5 years and only 3% interest pa (typical 3.00% APR) thereafter.