Infiniti brings out the big guns for the Festival of Speed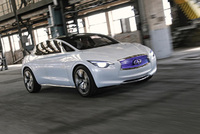 Inspired cars, inspired drivers, inspired event – Japanese luxury performance brand Infiniti will be providing the fireworks at the Goodwood Festival of Speed on 1-3 July. On show: perhaps the most convention-defying compact luxury car ever designed. And on track: the world's fastest accelerating hybrid.

Making its UK debut at the now-iconic annual motoring extravaganza, Etherea is Infiniti's mould-breaking vision of a future compact model. With a silhouette unlike anything in the luxury class and a high performance hybrid drivetrain, Etherea will be taking centre stage in the FoS-TECH technology pavilion (open from 30 June).

From outstanding design to uncompromised performance – and what promises to be an unmissable demonstration of new-generation hybrid technology when the M35h takes on Goodwood's hillclimb course. In anger. With 364 PS and 0-100 km/h in 5.5 seconds, the hybrid sedan that puts performance first will be a highlight of the weekend. Not least for who will be driving it…

Infiniti, whose partnership with Red Bull Racing is helping to ensure the 2010 Formula One World Champions continue to dominate this season, expect up to 175,000 enthusiasts to share in the brand's Inspired Performance ethos over the three-day festival.

While the M35h is Infiniti's latest production model, on sale across Europe now and arriving in Infiniti Centres from September, Etherea remains at the concept stage, providing a glimpse of how the brand's convention-defying distinctiveness could transform the compact luxury class for a discerning new generation of younger buyers. It made its world debut at the Geneva Motor Show in March this year.

A true luxury package with a stunningly elegant and welcoming interior, Etherea's four-door coupé look goes hand in hand with five-door practicality – and, like any Infiniti, a sports car's driving appeal.

The concept is powered by a supercharged 2.5-liter 4-cylinder petrol engine developing 245 PS, with power going to the front wheels via a CVT automatic transmission. Boosting power when more is needed – and providing silent, emissions-free drivingat low speeds – is anelectric motor. This potent yet highly efficient hybrid drivetrain is based around the innovative one electric motor/twin clutch system used in the Infiniti M35h and designed to make electric power work harder and last longer.

With the UK a key market in Europe for luxury cars and the Festival of Speed a honeypot for people who love cars, Infiniti sees the opportunity to show Etherea to British enthusiasts as an important stage in the concept's career. While a production decision has not yet been confirmed, the company has said that it will have two all-new compact cars in its line-up within the next three years or so.

The Festival of Speed in the grounds of Goodwood House just outside Chichester, West Sussex, has become the world's largest celebration of automotive culture, an action-packed mix of the fastest drivers in the fastest cars up Lord March's driveway. As well as historic racing cars and classic supercars, the FoS-TECH pavilion where Etherea will be on display showcases future motoring technology, making the festival doubly appropriate for a technology-led performance brand like Infiniti.

The FOS-TECH pavilion opens as part of the Moving Motor Show on Thursday 30 June while the Festival of Speed kicks off the next day, Friday 1 July, finishing on Sunday 3 July.