Fall for Alaska - In the Autumn!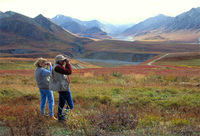 It might be surprising to learn that between the glittering snow in winter and everlasting sun in summer, Alaska is one of the top destinations for displays of fall colors. The myriad of reds, golds, burnt oranges and browns of Denali National Park and Preserve are truly a sight to behold. Denali covers more than 6 million square miles of land and is home to Mount McKinley, North America's tallest peak. It's located along the Parks Highway between Anchorage and Fairbanks, and is accessible by car or the scenic Alaska Railroad route from either city. Various visitor services, overnight accommodations and restaurants await travelers at the park's entrance, as well as numerous tour operations such as flightseeing, hiking, rafting and fishing that venture deeper inside the park.
Plan a fall visit to Denali well in advance as this season seems to come and go in the blink of an eye, and don't forget the camera! The colorful tundra appears in early August when the air becomes crisp and the wildlife viewing opportunities are abundant. Plants at high elevations change color first — the brilliant colors of fall descend steadily downhill into the valleys, where trees change color by early September. Around this time animals begin preparing for the winter months ahead. Spot moose and caribou on the move into the low country, along with other animals like grizzly bears and wolves.
The park's only road is 90 miles in total, winding deep into the heart of Denali's wilderness. Fall is the only time of year when private vehicles are permitted beyond the 14-mile marker, beginning with the annual road lottery in September. (The road is typically only open to buses that conduct daily wildlife viewing tours into the park.) During the four-day event, winners of the lottery drawing are given the chance to purchase a single, one-day permit allowing them access to drive as much of Denali Park Road as weather permits. Conditions vary year to year during the event. A year with early snow may only allow access up to the Savage River (mile 15); in years with more favorable conditions, lottery winners might enjoy longer treks all the way to Wonder Lake (mile 85). The lottery dates are the second Friday to Monday weekend after Labor Day each year.
The fall shoulder season, when all private vehicles are allowed access up to thirty miles into the park, begins the day after the Denali Road Lottery each year. The fall driving season lasts until snow closes the road. Check in with the National Park Service before you go to learn about driving conditions in the park.