Australia's newest great train journey - The Southern Spirit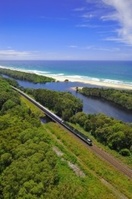 The introduction by Great Southern Rail of The Southern Spirit, their new and exclusive Australian rail journey which over six days spans four states and 2,810 km, gives train lovers an exciting new adventure to experience.
Offering a limited number of departures between November 2011 and February 2012, The Southern Spirit takes travellers on a journey filled with diverse and varied landscapes as it winds through four states – South Australia, Victoria, New South Wales and Queensland - through the Great Dividing Range and along Australia's Eastern Seaboard. This six day/five night journey begins in either Adelaide or Melbourne and finishes in Brisbane, or vice versa.
En route The Southern Spirit makes a number of stops, allowing guests to discover in more detail the beauty of The Grampians, the majesty of the Murray River, the vineyards of the Hunter Valley and the quaintness of Byron Bay. This is a relaxed way to experience the jewels of Australia's east coast hinterland, travelling in either luxurious Platinum Service or hallmark Gold Service cabins. On board service also includes fine dining in the Queen Adelaide Restaurant or drinks in the Outback Lounge.
Fares for the five or six day train journey range from AUD$3,500 - AUD$6,800 (approx £2,357 - £4,579) depending on departure point and service level. These prices include Whistle Stop Tours and transfers. To book, visit greatsouthernrail.com.au.