Art in Düsseldorf - The lively art scene on the Rhine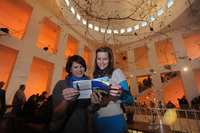 Düsseldorf, Germany. 26 museums, more than 100 galleries and a world-famous art academy – Düsseldorf is undoubtedly a hot spot in Germany's art landscape and offers numerous cultural highlights in 2011 and 2012!
Top-Museums:
The Kunstakademie (Academy of Arts) constitutes the nucleus of the stimulating and dynamic environment of "Art in Düsseldorf" and has produced many famous international artists such as Joseph Beuys, Gerhard Richter, Jörg Immendorff, or the "Becher School", which ranks such big stars of photography as Andreas Gursky, Thomas Ruff and Thomas Struth among its students.
The Kunstsammlung Nordrhein Westfalen has gained a prominent position with a collection that includes a variety of works focused on classic modernism – including Picasso, Matisse, Klee, Kirchner and Kandinsky, American art after 1945, and works by von Baselitz, Beuys and Richter.
Another flagship in Düsseldorf's museum landscape is the Museum Kunstpalast, which showcases old masters of the Düsseldorfer Malerschule (School of Painting) and masterpieces of classic modernism alongside the world-renowned Graphic Art Collection and the Hentrich Glass Museum.
Institutions such as the NRW-Forum, the Kunsthalle Düsseldorf or the underground exhibition room KIT "Kunst im Tunnel" further offer exciting changing exhibitions: the NRW-Forum shows exhibitions on such subjects as lifestyle, design, fashion, advertising, architecture, photography, video and comics. The Kunsthalle presents tendencies and positions related to contemporary art and its historical and local references. "Kunst im Tunnel" (Art in the Tunnel), meanwhile, is also an exhibition room displaying contemporary art, but specifically for young artists.
Theatre, Opera and more:
The "Deutsche Oper am Rhein" (German Opera on the Rhine) employs Germany's largest ensemble and for decades has been thrilling audiences with its performances. The "Tonhalle" (concert hall) is one of the most impressive and modern venues in Germany.
Düsseldorf's "Schauspielhaus" (Main Theatre) offers a choice of four stages, including the "Junges Schauspielhaus" (Young Theatre) and the "Central" at the main station which recently opened as a platform for experimental pieces. Venues such as the "Kom(m)ödchen" cabaret, the "Komödie" boulevard theatre on Steinstrasse, the "Theater an der Kö" and not least Düsseldorf's Marionette Theatre on Bilker Strasse round off the wealth of theatre venues. Roncalli's Apollo Varieté to be found on the Rhine promenade has also been a permanent fixture here for years.
Upcoming Cultural Highlights in Düsseldorf:
24 Sep 2011 – 23 Jan 2012:
Exhibition "World Class – Düsseldorf's School of Painting 1819 – 1919", Museum Kunstpalast: More than 4.000 artists from all over the world belong to Düsseldorf's "School of Painting". 400 pieces of their work are presented. info@smkp.de.
22 Oct 2011 – 15 Jan 2012:
Exhibition "The Other Side of the Moon", K20 Kunstsammlung NRW: Focuses on eight female artists who contributed substantially to the creative upheavals occurring in Europe during the 1920s and 1930. kunstsammlung.de.
2 Dec – 4 Dec 2011:
Reopening "Deutsche Oper am Rhein", Düsseldorf Opera House: Celebration with premieres of two operas and one ballet. operamrhein.de.
31 Mar – 12 Aug 2012:
Exhibition "Fresh Widow. Window-Paintings since Matisse and Duchamp", K20 Kunstsammlung NRW: 100 exhibits from 1912 – 2012, many of them on loan from Europe, Amerika and Australia. kunstsammlung.de.
28 Apr – 12 Aug 2012:
Exhibition "El Greco and the Modernity", Museum Kunstpalast: For the first time, El Greco's influence on German expressionists like Oskar Kokoschka, Max Oppenheimer, Max Beckmann and others is shown. info@smkp.de.
Annual Events
14 Sep – 2 Oct 2011:
altstadtherbst, Düsseldorf Old Town: Cultural Festival at numerous locations all over the city. altstadtherbst.de.
15 Oct 2011:
Japan Day: Big cultural and social festival to honour the German-Japanese friendship. Highlight is the huge display of Japanese fireworks, specially created by Japanese pyrotechnists. japantag-duesseldorf-nrw.de.
8 Feb – 12 Feb 2012:
Art Academy round tour: At the end of every winter semester, students of Düsseldorf's Art Academy present their best works to the public. postmaster@kunstakademie-duesseldorf.de.
28 Apr 2012:
Night of Museums: All cultural locations including museums, galleries, theatres etc. are open till late at night. nacht-der-museen.de.
Mai 2012:
Düsseldorf Jazz Rally: Germany's biggest Jazz-Festival, duesseldorfer-jazzrally.de.