2012 - A big year for astronomy, science and nature holidays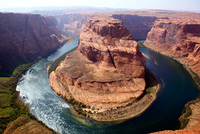 2012 offers a unique selection of celestial attractions for travellers with an interest in science, astronomy and all things natural. Specialist tour operator Astro Trails has launched a wide ranging programme of holidays featuring some of nature's most extraordinary displays.
Solar Eclipses
2011 was a year without a solar eclipse, but there will be two in 2012. An annular solar eclipse can be observed from United States' West Coast in May and a total solar eclipse will be seen in Queensland, Australia in November.
The annular solar eclipse will be viewed from the banks of the Colorado River, looking along the length of the Grand Canyon and the programme also includes several of the famous astronomical observatories of the region and the Arizona Giant Meteor Crater.
A very extensive programme for the total solar eclipse provides observation from one of Queensland's most spectacular beaches, just north of the resort town of Cairns. In addition to various tours of Australian highlights, the tour has a host of wildlife combinations including the orang-utans in Borneo, the Komodo dragons in Indonesia and the crocodiles of Australia's Northern Territory.
The Transit of Venus
This is a rare "twice in a lifetime" event, when the planet Venus crosses the face of the sun. The last one was in 2004 and the next one will be in June 2012, but if you miss that you will have to wait until December 2117! We travel to Hawaii to watch this event and combine it with a visit to the Volcanoes National Park to see the ongoing eruptions and also a trip to the spectacular observatories on the summit of the island.
The Astro Trails team is a group of enthusiastic travel people who devise specialist projects and expeditions for travellers who wish to use their "holiday" to view astronomical phenomena in the best possible conditions worldwide. Astro Trails endeavours to provide full and rewarding itineraries that allow our clients to immerse themselves in the destination, enjoy a variety of experiences and to chase dreams.
Product Executive Nick Whitfield said, "People who travel with us expect to be informed and educated by the experience, but that doesn't mean it can't be fun. Everyone has a story for the hotel bar in the evening and they can usually dine out on their holiday tales for years."
"Over the past 30 years our staff have taken people to almost every corner of the world to witness rare and spectacular events and we know how to get to the right places at the right time!"
For more information, visit astro-trails.com.