Happy buyer gives Emerald Green the thumbs up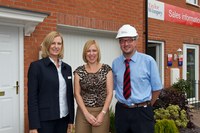 Homebuilder Taylor Wimpey Yorkshire's development Emerald Green has made an everlasting impression on overjoyed buyer, Rachelle Hattersley.
Rachelle, 43, recently purchased and moved into a Taylor Wimpey three bedroom townhouse - the Ingleton - complete with allocated parking and a beautiful garden, along with her two young children. However, Rachelle's case was far from straight forward.
Rachelle explains: "I had wanted to move closer to my parents for some time now. I didn't think I would qualify for a new mortgage due to my circumstance, until I spoke to the great team at Emerald Green who were very professional, helpful and gave great customer service.
"I am currently studying to be a social worker, and I knew it would be difficult for me to move house. Being a student, this is a situation that most building societies can't usually help with, because of uncertainties with repayments.
"I opted for the Easymover scheme which made it simple and stress-free, Taylor Wimpey handled all negotiations with the buyer for me which was great, and I didn't lose a penny through fees – even better for me"
Anne Bagshaw, sales and marketing director for Taylor Wimpey Yorkshire, adds: "We are extremely happy to hear from customers who are pleased with our service.
"We always aim to provide the highest standard of customer service to help buyers in any given circumstance, to make the right move for them. We have a number of schemes to accommodate all buyers and in Rachelle's case, she chose Easymover.
"Our Easymover scheme is perfect for families. The scheme helps people like Rachelle, move into their dream home and sell their current property in one simple package.
"The best part is, we will also pay for you to move and we provide the ongoing help and support needed - communicating with the estate agent to arrange an accurate valuation of your property to ensure your house is sold as quickly as possible."
Situated in the quiet market town of Penistone, Emerald Green enjoys the best of both worlds with the beautiful Peak District countryside on the doorstep and just 15 minutes from the M1 motorway. Sheffield, Huddersfield and Manchester are all within an hour's drive.
Emerald Green is in a perfect location with both the Peak district and the regions major cities within close distance, suiting both families and professionals alike.
For further details, visit taylorwimpey.co.uk.