Give your bust a boost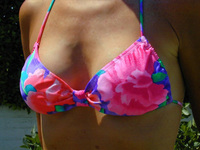 As thoughts turn to booking summer holidays and donning a bikini consider a non invasive way to give your bust a boost at The Malvern.
The Malvern, a super stylish, ultra-modern spa hotel on the outskirts of Malvern offers a CACI Bust Lift which is a fantastic non-invasive treatment that will give your bust area a lift, without having to resort to surgery. The CACI machine works to tone and firm the pectoralis muscles, using electrically charged probes designed to have minimal sensation but maximum effect!
CACI recommends a course of 8-10 treatments, for maximum effect together with a booster treatment once per month to maintain the results long term. The Malvern offers 1 CACI Bust Lift treatment for £45 and a course of 10 for £405.

Visitors to The Malvern can enjoy some exclusive spa facilities including the indoor and outdoor Hydrotherapy Pool fed by the world famous Malvern Spring waters - an evening 'taking the waters' in the outdoor pool whilst you watch the sun setting over the Malvern Hills which is an experience not to be missed! The Kelo Sauna, one of only 10 of its kind in the UK, reaches up to 85 degrees and is constructed of naturally fragrant wood found only in the Arctic Circle which helps improve blood circulation, weight loss, skin cleansing and induces deep relaxation of both body and mind.
In addition the Thermal Suite contains a Salt Grotto heated to 49ºC which has a restorative effect on the respiratory system, Experience Showers with a choice of warm tropical rain or refreshing cool mist, Foot Spas for calming and cleansing, a Crystal Steam Room heated to 42ºC infused with essential oils, and a state-of-the-art Herb Sauna, infused with seasonal herbs and essential oils to gently cleanse the body and mind.
For further information, visit themalvernspa.com.