Unusual Valentine's breaks in the Great Lakes USA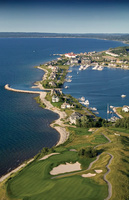 If you're looking to surprise your loved one this year with an unusual Valentine's Day break, then the Great Lakes USA has some unique ideas.
Love Tour at the Zoo
The Love Tour at Minnesota's Zoo is a very different way to spend a romantic evening. It provides a glimpse into the private lives of a variety of animals. From courtship to 'hanky panky' furry, feathered and scaly animals indulge in romantic rituals! Tours start at 5.45pm and run every 15 minutes until 7.15pm, lasting one hour. Afterwards, a delicious meal at the Discovery Bay restaurant is included. The price for the Love Tour is $175 per couple and couples must be over 21.
mnzoo.com/planvisit/planVisit_events.asp
Glass Blowing
Kalamazoo House in Michigan will help you heat things up with your sweetheart. If you select the 'Warm Hearts, Fine Wine and Hot Glass' package you can learn glass blowing together and keep the bowls or vases that you make. From $315 per room per night.
thekalamazoohouse.com
Chocolate 'Sushi'
Top chef Laura Valcour will teach you how to make 'sushi' using bittersweet chocolate, basmati rice, coconut milk, dark rum, strawberries, kiwi and mangoes. Learn the history of chocolate, sample various types and receive a chocolate certificate, chef's hat and recipes at the Morton Arboretum in Illinois.
morton.arb.org
Love Songs Competition
Enjoy the sights and lights of State Street and the sound of love songs when the Chicago Loop Alliance presents 'Love Songs and Lights' as part of Lightscape, a multisensory experience. Visitors are encouraged to submit love songs dedicated to their loved ones through Twitter, text messaging or the Lightscape website. The winning song will be chosen at random and will play with a romantic-themed coloured light show.
lightscape.chicagoloopalliance.com
Skating in the Sky
Take a romantic twirl together on the world's highest skating rink, situated on the 94th floor of the John Hancock Observatory in Chicago. Located 1,000 feet off the ground you can skate from 9am until 11pm.
jhochicago.com
The Ghosts of Canal Fulton
Spend a macabre evening with the ghost of Edgar Allan Poe Canal Fulton in Ohio. Instead of a red rose for the ladies, they will receive a black rose that may include a finger or other body part attached as a token of love. Eat dinner and drink a glass of Hop Frog Apple Grog whilst listening to Mr Poe pour out his heart or tear out the heart of another! Dark clothes only.
theghostsofcanalfulton.com