Typically Frankfurt - Green Sauce on "Green Thursday"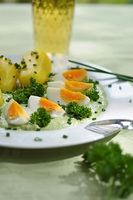 Spring marks the start of the herb season in Frankfurt. On Maundy Thursday, known as Green Thursday in Germany, locals traditionally enjoy a good helping of the famous Frankfurt Green Sauce, made with seven regional herbs.
A little later in the year, a jury of experts comes together at the Green Sauce Festival to crown Frankfurt's best Green Sauce. Goethe's favourite dish is of course only one of many local specialities on offer at Frankfurt's traditional taverns and restaurants. Whatever you order, make sure to enjoy it with a glass or two of the locals' beverage of choice, Frankfurt apple wine, which is celebrated each August at the very popular Apple Wine Festival.
For over seven centuries, locals have been following the custom of eating green vegetables and herbs on Green Thursday, known to the English-speaking world as Maundy Thursday. This ancient tradition combines the Christian guidelines of Lenten fast with the pre-Christian belief of saving the spirit of spring for the remainder of the year.
The seven herbs found in the real Frankfurt Green Sauce certainly do justice to the old Maundy Thursday tradition. Borage, chervil, garden cress, parsley, salad burnet, sorrel and chives form the basis of this regional delicacy, which is traditionally served with peeled boiled potatoes and hard-boiled eggs. Nowadays, there are of course countless varieties of the original Green Sauce recipe. Normally, the dish is made with a combination of sour cream, mustard, mayonnaise and vegetable oil. The so-called "secret" blend varies from family to family and restaurant to restaurant.
Each day of the Green Sauce Festival, held from 05th to 12th May, seven different restaurant chefs prepare the classic dish according to their own secret recipe and then serve it to a very willing audience. In the end, a special jury crowns the city's best Green Sauce with a great deal of fanfare. The much-loved delicacy even has its own Green Sauce Monument, to be found in the city district of Oberrad. Here, seven greenhouses set in the middle of a meadow are illuminated in various hues of green. Each tone of green matches the colour of one of the herbs making up Green Sauce.
Frankfurt cuisine consists of much more than just Green Sauce, however. Some of the city's most popular specialities are also named after their hometown: Frankfurter Kranz, or Frankfurt Crown Cake, is a favourite on local coffee tables, while Frankfurters have of course become famous far beyond Frankfurt's city limits. Traditional Frankfurt inns and taverns also serve Handkäs' mit Musik and Leiterchen, the local version of spare ribs, Haxe mit Sauerkraut, or knuckle of pork, and Rippchen, the ever-popular loin ribs.
But no Frankfurt speciality is complete without a glass of refreshing apple wine, with many of the city's pubs and taverns still making their own. It is served in a stoneware jug known as the "bembel" and drunk from a ribbed glass. During summertime, Frankfurt locals like to spend their afternoons and evenings in the courtyards and gardens of the city's many apple wine pubs, sitting side by side with out-of-town visitors beneath spreading chestnut trees while enjoying the weather, the company, and the food. These popular pub locations are very much the Frankfurt equivalent of the famous Bavarian beer gardens.
"Ebbelwoi", "Stöffche", "Äppler": Frankfurt's most popular beverage has many names. With the Apple Wine Festival, taking place this year from 10th to 19th August, the city celebrates its favourite drink. Visitors of the festival have many varieties of apple wine as well as unusual blends and cocktails available for the tasting. The celebration is rounded off with a superb culinary offer as well as a very entertaining fringe programme.