Get in the moodival of the Eden Foodival this summer!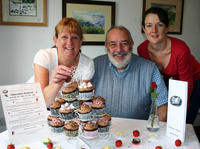 Get in the moodival of the Eden Foodival this year, by visiting a brand new food and entertainment festival, entering the British foodie calendar on August 26, 2012, in the spirit of the responsible tourism ethos of one of its supporters – Nurture Eden.
The Eden Foodival draws its inspiration from the food of the stunning Eden area of Cumbria, from the valley through which the River Eden runs and from the uplands, which reach up to the North Pennines.
This is England's true Eden, with an unspoilt landscape, quiet villages and a rich heritage full of Arthurian legend, historical heroes and heroines and myths and legends. Its quiet lanes, view-filled bridleways and fantastic walking routes make it the ideal location for sustainable tourism and Nurture Eden's mission is to make it England's first responsible tourism destination.
The Eden Foodival supports this ambition by focusing on local foods with a fabulous local provenance. The Foodival has grown from the grass-roots enthusiasm of the local people of Brough, an ancient market town near to Kirkby Stephen. It will feature exciting pop-up restaurants, showcasing the recipes and culinary inspiration of local chefs from some of the area's tastiest eateries, including Swanson House Restaurant and Guest House (Brough), Augill Castle (Kirkby Stephen) Mrs Miller's Culgaith (Culgaith) and Serious Dough, which tops woodfired oven pizzas, cooked in a converted horsebox, with great local produce!
Early arrivals can treat themselves to an egg, bacon or Cumberland sausage sandwich from the Cranstons' Big Barbeque Breakfast, while food purchases throughout the day can be washed down with tipples from the local Nine Standards Brewery and a new gin from Lakes Distillery.
Eden's treasure trove of local food can be seen on the hob and griddle in exciting cookery demonstrations in the Cooking Academy area, while purchases can be made from a Farmer's Market featuring everything from award-winning local fudge, to scrumptious venison burgers and naughty-but-nice cakes. Even the children can interact with Eden's food, by preparing their own treats for a special Teddy Bears Picnic.
Eden Foodival will be doing everything it can to create a sustainable legacy that supports the local environment. With support from the North Pennines Area of Outstanding Natural Beauty (AONB), Eden Foodival is funding a new permanent composting facility at the local primary school, which will serve the children's new orchard. All restaurants and exhibitors will be using 'kitchen caddies' to contribute to the compost heap and as many as possible of the plates, cutlery and glasses will be compostable too.
Tickets for the event bought in advance cost £8 for adults, £4 for children aged 3-15 and £20 for two adults and two children. On the day, these prices are £10, £5 and £25 respectively. Advance tickets can be bought at edenfoodival.co.uk.
Getting in the moodival of the Eden Foodival can be achieved by arriving in a more responsible fashion. Those staying for the weekend can travel by train on the west coast line from London Euston to Penrith - a half-hour taxi ride from Brough. Alternatively, visitors travelling by train to Carlisle can catch the fabulous, scenic Settle to Carlisle Railway to Kirkby Stephen, close to Brough. This line is also perfect for people living in Yorkshire. Another option is that of taking the Transpennine Express service from Manchester to Brough.
Those staying in Kirkby Stephen can 'park and ride' to the Eden Foodival to reduce their shared carbon footprint, while travelling in style on one of Cumbria Classic Coaches' vintage vehicles. An experience in itself! The moodival of the Eden Foodival can also be captured by those arriving by car, who could park their vehicle up at the nearby Grand Prix Services, or head to the Festival by public transport, or by cycling to the event.
Visitors staying within Eden can make it their intention to have a responsible stay by booking with one of Nurture Eden's responsible tourism-focused members. All details are at agreeneden.org but great local choices would be Swanson House, Augill Castle, A Corner of Eden and Angel Barn, Crake Trees Manor, Milburn Grange, the Tufton Arms Hotel and the glampers' delight, The Summerhouse at Brampton Mill.
Those in the moodival having sampled Eden's food at its Foodival, can perhaps get on their bike and cycle to a food producer or eatery in the days after the festival. Under their own steam, they could visit a festival participant, such as Brough Castle Ice Cream, take a trip to the Bessy Beck Trout Fishery, or enjoy a great dining pub meal at the Black Swan or King's Head in Ravenstonedale.
If they head into Appleby or Kirkby Stephen, they could further sample delights from the Appleby Bakery, also available for those travelling via the motorway network at the Westmorland Services Farm Shop at Tebay Services (M6 Jct 38), where Deer 'n' Dexter venison and beef produce is also on sale, along with other products made in Eden.
It is also possible to arrange a tour of the Nine Standards Brewery at the Croglin Castle Hotel in Kirkby Stephen – perhaps best done if sampling is involved and if travelling on the same day, by taking the public transport options available.
Responsible tourism is also all about giving something back to the local community in which you are holidaying, so to get into the moodival of the Eden Foodival even further, purchase its Eden Foodival Charity Cookbook. The beautifully presented book features recipes from around Eden, submitted by some of its finest food heroes to help support the North Air Ambulance, for which each cookbook purchase raises money.
Visit agreeneden.org and edenfoodival.co.uk if you find responsible holidaying gives you food for thought and want to find the perfect recipe for a sustainable, foodie-focused stay this summer.