The French GourMay Culinary Fare at WHISK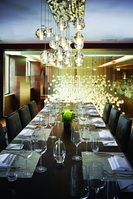 WHISK plates pure Gallic indulgence yet again partnering with the popular French GourMay, part of the 20th French May in Hong Kong. Exclusively composed by the Executive Sous Chef of The Mira Hong Kong, Alexandre Buytaert, the mouthwatering 6-course French Gourmet Menu features France's finest delights from Aquitaine Sturgeon and Caviar, to Duck Foie Gras, and Escargots Ragout for true connoisseurs.
Rooted in the finest traditional methods of preparation, the contemporary approach to the French cuisine can be sampled in all six, unique dishes elegantly offset by the thoughtful selection of A-list wine pairings guaranteed to leave the palates tingling with pleasure.
Feast on the delicate Tourteaux Crab Remoulade with Lemon, Red Radish, and topped with Aquitaine Caviar matched with the vibrant aromatic character and acidity of Château Saint-Robert Cuvée Poncet Deville 2006 (Graves). Earthy Escargots Ragout with Lentil, Morteaux Sausage, Quail egg is balanced with finely aged Bordeaux wine, Château Terrey Gros Cailloux 2004 (St Julien), already losing its fruity freshness and unveiling notes of cedar wood and tobacco with well-structured tannins.
A must on the French table is the Duck foie Gras, pan-fried and served with Savoy Cabbage, seasonal Morel, and Mushroom Consommé, which calls for a fresh, red Bordeaux – the Mademoiselle L. by Château La Lagune 2008 (Haut-Médoc). Unique in texture and with a grilled meaty strong flavour Aquitaine Sturgeon with Celeriac, Raisin, Colombo Jus is toned down by the freshness of Château La Commanderie Cru Bourgeois 2009 (St-Estèphe).
Succulent Lamb Rump with Coco beans, Black olive, Rocket arrives with the N°3 de Château Angelus 2008 (St-Emilion). Elegant Merlot-based wine from the cradle of Bordeaux, has fruity notes to match with the lamb, olives and the peppery rocket. To finish off the franco-feast, decadent Espresso Delight with Spiced Biscuit, Chocolate, Cinamon Ice cream plays a perfect harmony with natural sweetness of white Château Cantegril 2004 (Sauternes).
Available throughout the entire month of May, the French Gourmet menu is priced at HK$1,088 per person with additional surcharge of HK$480 for wine pairing (100ml each).
All prices listed above are subject to 10% service charge.
Wine selection or vintage may change without prior notice.
For more information, visit themirahotel.com.