Reggae vibes and veggieburgers at this year's VegfestUK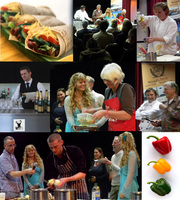 Reggae vibes and veggieburgers will once again be in plentiful supply at this year's VegfestUK Bristol, the world's biggest veggie event and now in its tenth year, to be held by the Harbourside in central Bristol on May 25th 26th & 27th 2012.
Admission is completely free to the public all weekend and there is a strong line-up of music and entertainment on the Main Stage, with Jamaican reggae singer Johnny Clarke & Soothsayers headlining the Sunday slot, supported by recently reformed original Bristol reggae act Talisman, whilst on Friday Neville Staple of The Specials heads up a ska line-up that also includes local Bristol acts. And Saturday sees local heroes Dub Mafia live on stage, plus a rare appearance in Bristol from Finley Quaye.
But whilst for many the attraction of VegfestUK Bristol lies firmly with music, there's a lot of others that come mainly for the wonderful food, shopping opportunities, and a wealth of over 75 talks, cookery demos and presentations. There are two big marquees with over 120 stalls crammed full of the latest veggie food products, bodycare, fashion, clothes, information and accessories, many at vastly discounted prices, and including lots of free samples and tasters too. There's also an intriguing looking Ready Steady Chef competition involving local chefs cooking off against each other, and a Great Veggie Burger and Sausage competition involving lot of tasting and judging by the audience. And with a dedicated Kids Area (complete with kids cookery classes), The Animal Sanctuary (featuring people who work with animals) a comedy & chillout tent, crazy golf course and 3 performance stages with acoustic acts on throughout the day, VegfestUK Bristol 2012 looks to be the best ever yet - and best of all, it's completely free.
So how does the organiser manage to pull of a completely free festival with crowds of up to 15,000 expected over the 3 days in the heart of Bristol, whilst still managing to attract quality live acts as well as fulfilling all the health and safety requirements that are an unavoidable part of a modern day event? 'Simple' says the organiser Tim Barford from VegfestUK. 'We have a lot of wonderful stallholders and sponsors - far more than ever before. And we have a lot more visitors. It's a sign of how popular the veggie lifestyle has become over the last decade. The show stands up on its own now thanks to the commitment and support of those involved, and that alone allows us to put the whole event on for free. Ok, we don't make a profit and I don't get paid but most of us do this for the love.'
Tim adds 'Coming from a free festival tradition 30 years ago, it's absolutely thrilling to be able to put on a genuinely free festival in the middle of Bristol in 2012. It's important to remind people of the true roots of the festivals in this current crowded commercial festival climate. And it's also important to give people options when it come to dietary choice. There's a lot of benefits to switching to a plant based lifestyle and this event showcases the best of this for free.'
You can find out more information about this jewel of an event on the website bristol.vegfest.co.uk but don't worry about buying tickets - you won't need any. It's free.
Event dates: Friday May 25th 2pm - 8.30pm, Saturday May 26th, 11am - 8.30pm, Sunday May 27th 11am - 8.30pm.