Carmarthenshire launches dedicated food trails for visitors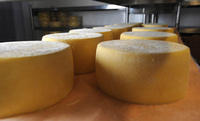 Carmarthenshire launches dedicated trails for foodie visitors with mapped routes, Prince Charles' favourite cheese and cake, squirrel, coracle caught smoked trout and more.
Carmarthenshire is full of foodie surprises - from a squirrel meat stall in Carmarthen Market, some of Wales' best laver bread and cockles found on its shores, as well as the newly acclaimed 'best restaurant in Wales' - Y Polyn - hiding in the sleepy village of Capel Dewi.
To help visitors uncover the county's real 'food heroes' a number of food trails have been launched online at - discovercarmarthenshire.com/food-trail - guiding you around Carmarthenshire's very best food producers from farm shops, pie shops, delis and pubs, to restaurants, teashops and bars. There are unique experiences too, such as bearded fisherman Big Bill in Llansteffan who cooks up his catch every weekend and serves it up in his living room.
The three mapped trails make it easy to avoid the big supermarkets, experience the county's authentic tastes and gain an understanding of the agricultural landscape as Carmarthenshire is packed with small-scale producers who have been crafting meats, cheeses and bakery goods for decades. Visit Albert Rees where the son of Albert, Chris, still cures the famous Carmarthen Ham - a recipe handed down through the generations and a family legend claiming the Romans stole it during the invasion of Wales and invented Parma Ham. Whatever the truth it's a favourite of Rick Stein's! A neighbour in Carmarthen's Indoor Market is Etta of Richardson's Bakery, now run by her son and his wife - their fruitcake so impressed Prince Charles he promptly ordered eight for Christmas and then served slices at his wedding reception to Camilla. Known as Etta's Royal Cake the recipe remains a tightly guarded secret.
The new wave of food pioneers includes Scott Davis who after years working in top restaurants in London and New York has returned to his roots to set up cnwd (pronounced cn-ood — it rhymes with food) a smokery producing smoked wild fish and award-winning terrines.
Then there's dairy farmer's son Martin Bowman who in 2010 set up Cowpots Ice Cream Parlour in Carmarthen town centre to bring his family's ice cream business direct to the public. Just opened in the last few weeks, Wright's Food Emporium is an independent food store and café selling organic native breed beef and lamb from Hazelwell Farm in Whitland, Nant du Bacon from a small holding near Llandeilo, bread baked on the premises and organic veg. Squirrel-fanciers will go nuts for Taste of the Valleys, where every Friday in Carmarthen Market, they sell squirrel meat, now one of the most popular sellers on this game stall!
Each food trail profiles a local 'food hero' and sets out a route of culinary highlights for three distinct geographical areas - Carmarthen and West, Newcastle Emlyn and North and Llandeilo and East! And to whet your appetite there are films online for each local producer.
The three trails:
1. Carmarthen and West - this route takes visitors from Carmarthen's indoor market selling the legendary Carmarthen Ham to Etta's Royal Cake and over to Philip Hughes Butchers in St Clears where they turn out 7,000 homemade pies a week.
2. Newcastle Emlyn and North - this route includes traditional cheese makers Caws Cenarth (their Perl Las Blue was a Gold winner at the British Cheese Awards) where you can watch the cheese being made and owner Thelma starts everyday with cheese and homemade oatcakes for breakfast. When you're ready for lunch head to The Black Lion in the Cothi Valley for great value home-cooked nosh where a whopping 3 course Sunday lunch will set you back £12.95!
3. Llandeilo and East - this route is the most compact and if you're looking for a one-stop shop to buy your local provisions then Cwmcerrig Farm Shop & Grill won't disappoint- from local veg to hand-patted Welsh butter and an award-winning butchery that sells the Watkins' own Texel lamb. You can stay for lunch or head out up to the nearby hilltop ruins of Carreg Cennen Castle for a picnic spread of cheeses, pickles, bread and local ale - and 60 mile panoramic views across the valley to boot. To satisfy a sweet-tooth don't miss Heavenly for homemade ice cream, chocolate and cakes and they even make a flavour for dogs!
To explore Carmarthenshire, visit discovercarmarthenshire.com/food-trail
Here's our selection of places to stay on the trails - from self-catering to camping, glamping, hotel or a B&B serving up an extra tasty local breakfast.
Maes-y-Derw Country House B&B, Newcastle Emlyn
This 5-Star award-winning Edwardian residence is situated on the edge of the picturesque market town of Newcastle Emlyn with wonderful views over the Teifi Valley and its famous Salmon and Sea Trout fishing river. Your host Catherine is a great resource for local tips and her breakfast has to be one of the best in Carmarthenshire! Tuck into homemade jam, marmalade and breads - Katherine's chickens and ducks provide the eggs. The Welsh cooked breakfast includes lava bread and Welsh Black Beef sausages.
Permits for fishing a prime stretch of the Teifi are available and after a successful days fishing, Katherine will gut, prepare and, by prior arrangement, cook your catch for you; alternatively she will freeze it for the journey home.
Cost: Double room with breakfast from £75 a night. Free Wi-Fi
For more info: maes-y-derw.co.uk

The Cawdor Hotel, Llandeilo
One of Carmarthenshire's landmark buildings is now one of Wales's leading boutique hotels. The Cawdor has 23 individual rooms in a Grade II listed Georgian building and a buzzing bar and restaurant. The perfect base as a gateway to the Brecon Beacons and excellent shopping in the town of Llandeilo.
Cost: From £65 per room on a bed and breakfast basis based on 2 sharing. Free Wi-Fi.
For more info: thecawdor.com

Cwmcrwth Farm Cottages, near Llandeilo
A traditional Welsh smallholding of 4 star cottages in the Towy Valley renovated to a high standard with rare breed animals, producing their own bacon and sausages. Converted from the original hayloft and barn these cosy cottages are perfect for families wanting to explore the local area.
Cost: A 7 night summer stay in The Milking Parlour (sleeps 6) costs £400 (reduced from £735).
More information: cwmcrwthfarmcottages.co.uk

The Cors, Laugharne
Hidden from the main street in Laugharne, behind its exotically landscaped grounds, is The Cors, a very special and intimate restaurant with three rooms. Converted from an exquisite Victorian house, chef-proprietor Nick has brought this building to life and created a charming blend of period pieces and modernist artworks. The three rooms are all en-suite with newly appointed bathrooms. Each room reflects the elegant, 'shabby chic' style of The Cors.
Cost: £80 per room on a bed and breakfast basis based on 2 sharing.
For more info: thecors.co.uk or call 01994 427219. Free Wi-Fi.
Larkhill Tipis, Cwmduad
Staying in a Tipi at Larkhill Tipis is perfect for a comfortable back to nature experience. Think evenings sitting next to a glowing log fire, looking at an endless sky of stars and waking to the sound of bird song, with spectacular views of the Carmarthenshire countryside. Larkhill offers an eco friendly luxury camping experience on an organic small holding of 20 acres. A perfect spot to cook up treats from your food trail forage.
Cost: £60 per night for a tipi which sleeps 4.
For more info: larkhilltipis.co.uk