A hassle-free upgrade with Morris in Derbyshire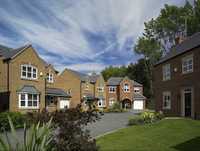 Local housebuilder Morris Homes can help second steppers stuck on the property ladder upgrade to their dream home in the beautiful Amber Valley village of Swanwick.
The average time a property is sat on the market rose by 15 per cent during the first three months of 2012,* but Morris can help speed up the process for frustrated househunters with the Part Exchange scheme available at its new St Andrews Place development on Ashton Close.
This helpful initiative sees the developer purchase a buyer's current property for 100 per cent of its market value**, speeding up the moving process and removing the risk of being caught in an unreliable property chain.
Cindy Vials, regional sales director at Morris Homes, said: "Buyers are frustrated at the length of time it can take to relocate their family to a bigger, quality new build property but our Part Exchange scheme can remove the hassle from upgrading.
"We pay the estate agency fees and with a guaranteed moving date the move to our exclusive St Andrews Place development becomes a quick, stress-free experience for the househunter."
The new build homes at St Andrews Place do not require the same renovations as second hand houses, and provide long-term savings for the buyer because they are built to stricter sustainability and energy efficiency standards.
Located near the idyllic River Amber, the development offers easy access to motorway links for a simple commute to Sheffield, Nottingham and Derby.
Cindy added: "The mix of stunning three and four-bedroom properties at St Andrews Place are just a two minute drive from Swanwick town centre, providing a range of essential amenities on the buyer's doorstep."
Morris has a variety of three and four-bedroom homes available at St Andrews Place starting at £194,750.
The homes are currently being sold from Morris' neighbouring Cromford View development. Visit morrishomes.co.uk for more information.