Jelson Homes helps to create a new community in Ilkeston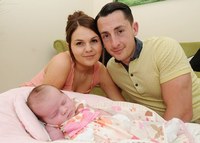 Wherever it builds, Jelson Homes' developments often mark the start of a new community in the area; one which will flourish for years to come. That certainly seems to be the case in Ilkeston, where one couple, having just moved in, has welcomed the newest addition to Nutbrook Reach – a baby girl called Millie.
Parents Lee Eyre (26, a baker) and Jodie Inquieti (21, a student nurse) decided that it was time to get their own place, when they found out that Jodie was pregnant. However, it wasn't the easiest search, as Lee explains: "We knew that we had to move, but it took us quite a while to find somewhere where we wanted to live. If we liked the area, we didn't like the home and vice versa. Coming across Jelson Homes' development was really the solution we were looking for."
Lee and Jodie moved in to a two-bedroom Cartmel house type, at Nutbrook Reach, just a few weeks before Millie was born. Jodie comments on what made this home stand out from the rest: "It was just so spacious, compared with other properties which we had seen, both inside and out, as the garden is a good size too. Plus, the development is set around a cul-de-sac, so it's quiet and will be safe for Millie to play, when she's older."
Lee adds: "The location is great too. It isn't too far from where we were living before, which is why it appealed. It's also convenient, as it's on a good commuter route, ideal for my work and for when we have to nip out and get any shopping, as there are good amenities just up the road from us."
As a special 'welcome to site' and congratulations on the birth of baby Millie, Jelson Homes presented the couple with a high chair for use when the baby is older. Jodie said: "It was such a thoughtful gift and will come to good use soon enough. We'd like to thank Jelson Homes for making our move here such an easy and pleasant one. We've already told all of our friends how much we're enjoying living here and have even tried to encourage some of them to do the same."
There are only two homes remaining for sale at Nutbrook Reach, including a Cartmel, priced at £109,950, and a three-bedroom Tawny, for £159,950, so interested parties should visit the development without delay.
Conveniently situated in Ilkeston, Derbyshire, the town is close to both Derby and Nottingham and near to the M1 motorway (junctions 25 and 26), with excellent connections with the east and west Midlands. Ilkeston also benefits from its close proximity to East Midlands Airport and is well served with all facilities, including shops, restaurants, hotels and excellent primary and secondary schools.
To find out more about the remaining homes at Nutbrook Reach, visit jelson.co.uk.