Morris Homes offers last chance to buy family home in Swanwick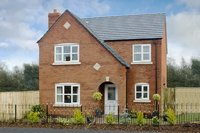 Househunters are running out of time to secure an elegant detached home in Amber Valley after Morris Homes recorded a succession of sales at its popular Swanwick development.
A surge in interest at Morris' exclusive St Andrew's Place on Ashton Close means that there are just six detached properties remaining at the site. These include the sought-after four-bedroom Malham family home.
Buyers looking to upgrade to one of the three or four-bedroom properties available at the development but that are unable to sell their own home can turn to Morris' Part Exchange scheme for assistance.
The helpful initiative sees the developer purchase the househunters current property for 100 per cent of its market value, removing the risk of getting caught in unreliable property chains and speeding up the moving process.
Cindy Vials, regional sales director at Morris, said: "We launched St Andrew's Place just six months ago, and the combination of quality family homes in a fantastic location has seen visitors flock to secure a home at the popular development.
"Our Part Exchange scheme eliminates the hassle associated with upgrading to a new home. We pay the estate agency fees and provide buyers with a guaranteed moving date, which gives them plenty of time to prepare for the big move."
The new build homes at St Andrew's Place are conveniently located just minutes from the local motorway network, enabling an easy commute into Nottingham, Derby and Sheffield.
Cindy added: "The spacious properties are ideal for growing families looking for a peaceful community setting, and we advise househunters to head to the site to snap up their dream home before it is too late."
Morris' remaining three and four-bedroom properties at St Andrew's Place are available from £194,750.
For more information on the schemes and homes available at St Andrew's Place, visit morrishomes.co.uk.