Have an indulgent trip to 'Le Manoir' with like-minded people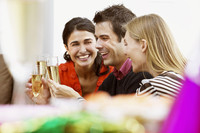 Raymond Blanc's renowned Le Manoir aux Quat' Saisons is not the sort of venue to which you would wish to travel alone, without someone to share the experience with you. You might also struggle to put together a group yourself. Luckily, thanks to the organisational skills of the country's leading socialising and singles club, Dinner Dates, you don't have to.
Dinner Dates has arranged a superb day out which has a meal at Le Manoir aux Quat'Saisons as its focal point, but also encompasses the romance of train travel from a bygone era. Diarised for November 7, 2012 this event will be one of the most spectacular and truly indulgent ever organised by the club during its 23-year history.
The day will start with a departure from London Victoria on the British Pullman, sister train to the Venice Simplon-Orient-Express. All members will be seated in luxurious, vintage carriages and have a truly indulgent experience as they enjoy the passing countryside during their journey to Oxfordshire and partake of a light brunch served with champagne.
A two Michelin star, three-course set lunch and inspiring gastronomic experience awaits the Dinner Dates group after a transfer by coach from the train to the idyllic village of Great Milton. Dishes will be based in part on ingredients grown at Le Manoir, while the preparation will demonstrate why the eatery has retained two Michelin stars since 1985.
Dessert is served on the return journey home aboard the British Pullman, followed by coffee, this bringing to a conclusion a perfect day out for any food lover. The group will arrive back in London at around 6.30pm.
Dinner Dates members can book this once-in-a-lifetime experience for £659. Membership details and special deals for those wishing to become members, to access organised socialising on a year-round basis and enjoy more time in the company of like-minded individuals, friends and professionals, can be found at dinnerdates.com.