New food and wine festival launched in Antigua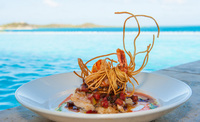 Antigua's luxury sailing resort Nonsuch Bay, will launch a celebration of Caribbean food and wines of the world with a three week long festival in November hosted by Caribbean Chef of the Year 2011 Mitchell Husbands and Master of Wine Liam Stevenson of Red and White. The festival has been inspired by the growing interest in fine wines and contemporary Caribbean cuisine on the island.
The first Nonsuch Food and Wine Festival, which runs from 15 November to 6 December 2012, will feature wine, champagne and rum tastings, cooking demonstrations, gourmet Caribbean street food, guest chef appearances and special tasting menus. The event culminates in a full day of food and wine events – Winestock – on 25 November. The festival will be an annual event.
Guests at the resort can attend complimentary wine tastings every Thursday from 15 November to 6 December hosted by Liam Stevenson. Chef Mitchell will serve complimentary Caribbean gourmet street food, which will include johnny cakes with frizzled salt fish, dhalpuri roti with chicken curry, crispy Antigua fish cakes and pickled seafood in tortilla cups.
The resort is offering special tasting dinners celebrating Caribbean gourmet cuisine on Tuesday 20 and 27 November and 4 December with each course accompanied by a wine chosen by Liam Stevenson. Signature dishes include jerk pork with bubble and squeak cake, green beans bundle, spiced apple chutney and braised black beans and blackened fillet of king fish with saffron mash, steamed baby bak choy and tomato coulis. On 1 December Chef Mitchell will be cooking with a mystery guest from an acclaimed regional restaurant.
The festival culminates on Sunday 25 November with Winestock, where Antiguan wine dealers will showcase over 100 wines from France, Italy, Spain, California, Australia, New Zealand Chile, Argentina South Africa and Lebanon. There will be wine talks by Liam Stevenson, cookery demonstrations by Chef Mitchell, a buffet of Caribbean street food, champagne and rum tastings, blind tasting competition and live music. Tickets cost £23.
Liam Stevenson said: "I have spent my career tasting and enthusing about wine and I was thrilled when I visited Antigua earlier this year by the range and diversity of wines available. This festival of food and wine offers a fantastic change to taste the very best that the wine merchants of Antigua have to offer."
A week in a one bedroom apartment at Nonsuch Bay during the Nonsuch Wine and Food Festival 2012 costs from £735 (US$1,177) per person based on two sharing and includes breakfast and dinner. Tasting dinners cost an additional £22 (US$35) for guests on half board and £56 (US$90) for guests on room only or outside diners. For more information, visit nonsuchbayresort.com.