Part-exchange gets you on the move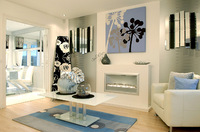 To help customers get on the move, George Wimpey East Scotland is offering a part-exchange scheme for a limited period on selected plots on the final phase of its Hollybrae development in Kirkcaldy, as well as the impressive Masterton Lea development in Dunfermline.
Part-exchange scheme gives customers the chance to get on the move without the hassle and stress of selling their own home, and usually means that customers can move into to their new home much quicker than if they were taking on the challenges of the property market themselves.
Karen Armstrong is sales and marketing director for George Wimpey East Scotland: "It's a challenging time for buyers in the property market, and our part-exchange scheme is designed to help our customers who want to be on the move in the next few months, and to make moving into their dream home a reality. With George Wimpey completely removing the stress and worry associated with selling their existing home, our part-exchange scheme at both Hollybrae and Masterton will be of particular interest to customers at the moment."
George Wimpey's Hollybrae development, at Sir Thomas Elder Way in Kirkcaldy currently offers a range of three, four and five bedroom detached homes and prices start from £182,000 for a four bedroom detached Don, up to £216,000 for the four bedroom detached Tay.
Masterton Lea, off Lapwing Drive in Dunfermline offers a wide range of two, three, four and five bedroom homes with prices ranging from £139,000 for two bedroom semi detached Brodick up to £296,000 for five bedroom detached Tarbet.
Masterton Lea is open seven days a week from 11.30am -5.30pm, Hollybrae is open Thursday to Monday, 11.30am-5.30pm. For more information log on to Georgewimpey.co.uk.