Meet the movers and shakers with Redrow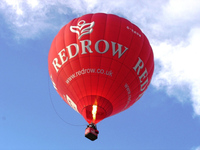 Choosing a new home and making it your own could be a whole lot easier than expected, thanks to an invitation to 'Meet the Experts', who will show you how to 'Unlock your Potential' at a special event at Middlebank Rise, in Dunfermline.
Homebuyers can shake off the unnecessary stress of deciphering the fine details of buying a house because Redrow has risen to the occasion with fantastic solutions - that could leave you, quite literally, floating on air!
On Saturday, 6 September, Redrow is hosting an event that will involve an abundance of experts from the likes of estate agents, rental agents and financial advisors, to ensure homebuyers can ask all the right questions to the necessary people. And there'll even be a chance to take to the skies as well.
Whether it's a simple question about the kitchen worktop or something more complex like how to sell your existing property in the current market, Redrow's property professionals will be on hand to answer any queries or concerns you may have.
Past events have proved very popular and successful, and Redrow Homes (Scotland) sales director Diana Newton says: "The current economic climate is making some people a little more hesitant than normal about making a move, but our network of property professionals can offer a great deal of reassurance and some creative solutions to make securing a mortgage and facilitating a move as simple and straightforward as possible.
"With our 'Unlock your Potential' initiative, our experts can work out the best way to get people moving - whether it is help selling their existing home or using it as an asset by renting it out; and Redrow will play its part by providing assistance to make the package more affordable.
"Our customers can enjoy viewing the show homes and pondering much simpler issues like whether their sofa will fit through the door; leaving worries such as how much stamp duty will have to be paid to the team of experts we'll have on hand."
And with the more taxing topics of home ownership well and truly taken care of, potential customers can sit back and enjoy the ride - a tethered ride in Redrow's very own hot air balloon, that is. Providing weather conditions are suitable on the day, the balloon will be tethered at Masterton Park to give visitors a bird's eye view of the development and surrounding area.
One lucky family could even find themselves flying high by entering a free prize draw to win an actual flight in a hot air balloon.
Middlebank Rise is just a short drive from Dunfermline town centre and all its amenities, whilst at the same time benefits from a semi rural location close to the Fife countryside and coastal areas. There are great schools close to the development and regular bus services, while nearby Dunfermline and Inverkeithing railway stations offer access to Edinburgh city centre within 15 minutes, making it an ideal commuting spot.
Join Redrow for its 'Ask the Experts' event on Saturday, 6 September, from 12 noon to 4pm or find out more by logging on to Redrow.co.uk.